About The Software
Hotel Investor Apps (HIA) is a hotel-specific accounting software that offers more than just accounting. It is a total back-office solution that connects disparate systems into one platform.
In the HIA platform you can: 
Enjoy the advantages of a truly cloud-based accounting solution with built-in automations and integrations.
View role-based real-time dashboards & reporting.
Select standard dashboards or customizable ones.
Manage budgeting and forecasting.
Specify role-based permissions and user access.
Add unlimited users with no per-user fees.
Benefit from 300+ integrations to pull in complementary data points including PMS systems, STR reporting, cashflow, payroll, labor management, and more.
Store confidential files securely.
Feel assured with bank-level security and multiple redundancies in place.
Resilient companies choose software that is efficient, secure, reliable, flexible, and scalable.
We are Hotel Investor Apps powered by Acumatica.
In developing our platform we partnered with one of the most-awarded Cloud ERP products on the market and then built it out for the hotel industry. This means that our clients receive the most advanced born-in-the-cloud functionality and benefit from continual product updates & improvements. 
In fact, Acumatica allocates 74% of employees into Research & Development to continually future-proof the platform so that users always have the most up-to-date technology.
HIA Recognized with
Acumatica Development Award
As an Acumatica partner, Hotel Investor Apps (HIA), has been recognized with the coveted Acumatica "Development Excellence Award." The award was announced at the 2023 Acumatica Summit in Las Vegas. The award recognizes the Acumatica partner who has been able to leverage the technology to disrupt their industry and challenge the norm.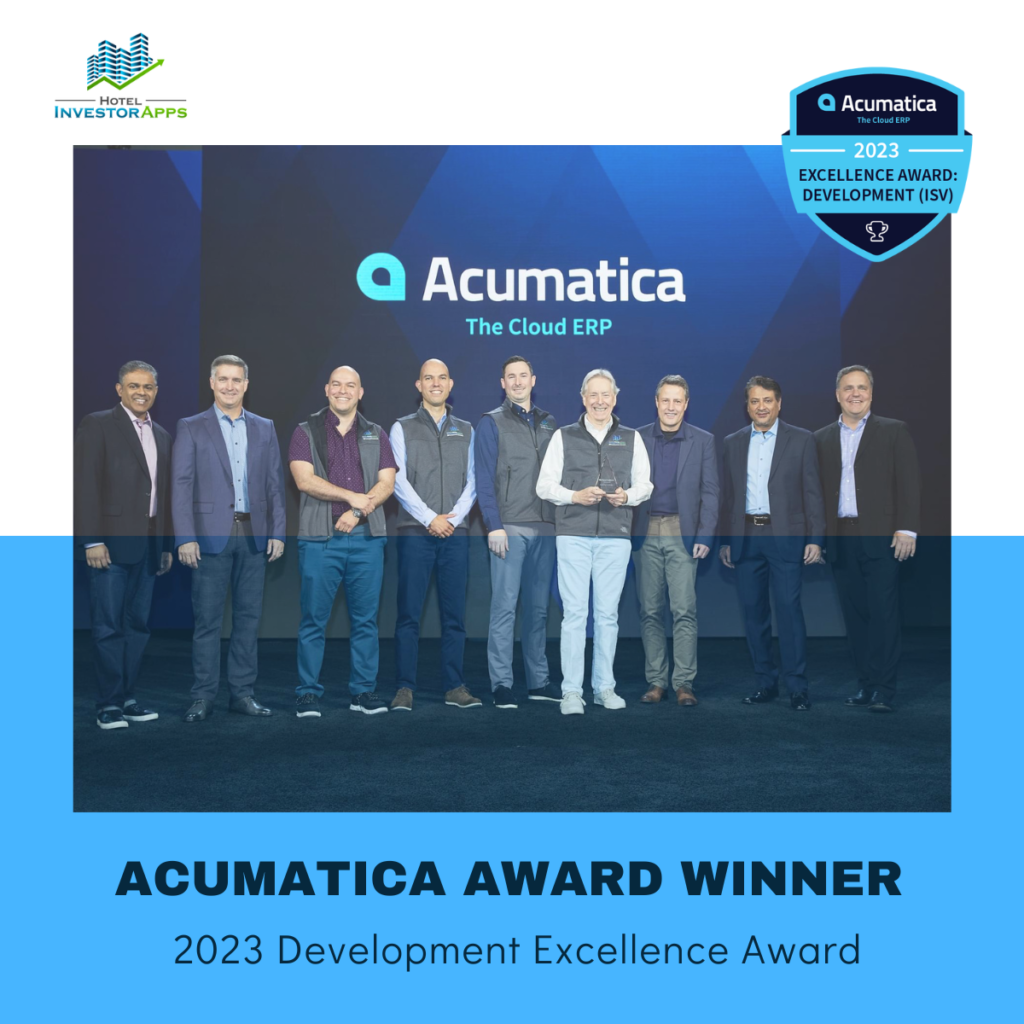 HIA Founder & CEO Charlie Fritsch noted,
"We are honored to have been recognized by Acumatica, the world's fastest growing ERP company, as a market disruptor in the hotel industry. Our hotelier customers are excited to leverage the latest and most advanced Accounting & Business Intelligence technology with more automations and more data integrations to drive greater profitability in their portfolios."
Download Free USALI Chart of Accounts
Benchmarking expenses across your portfolio with the Uniform System of Accounts for the Lodging Industry, 11th edition, the standard chart of accounts in the hotel industry.