Business Intelligence
Hotel Investor Apps ERP & Accounting Suite is an all-in-one hotel back-office software platform. The latest accounting technology is integrated with business intelligence and as well as software solutions for everything from AP Automation to Time & Attendance, and more.
Business Intelligence functions combine your data from multiple sources in new ways to create insights into operations, sales, expenses, financial and capital key performance indicators, creating leaner, sharper management resulting in better outcomes.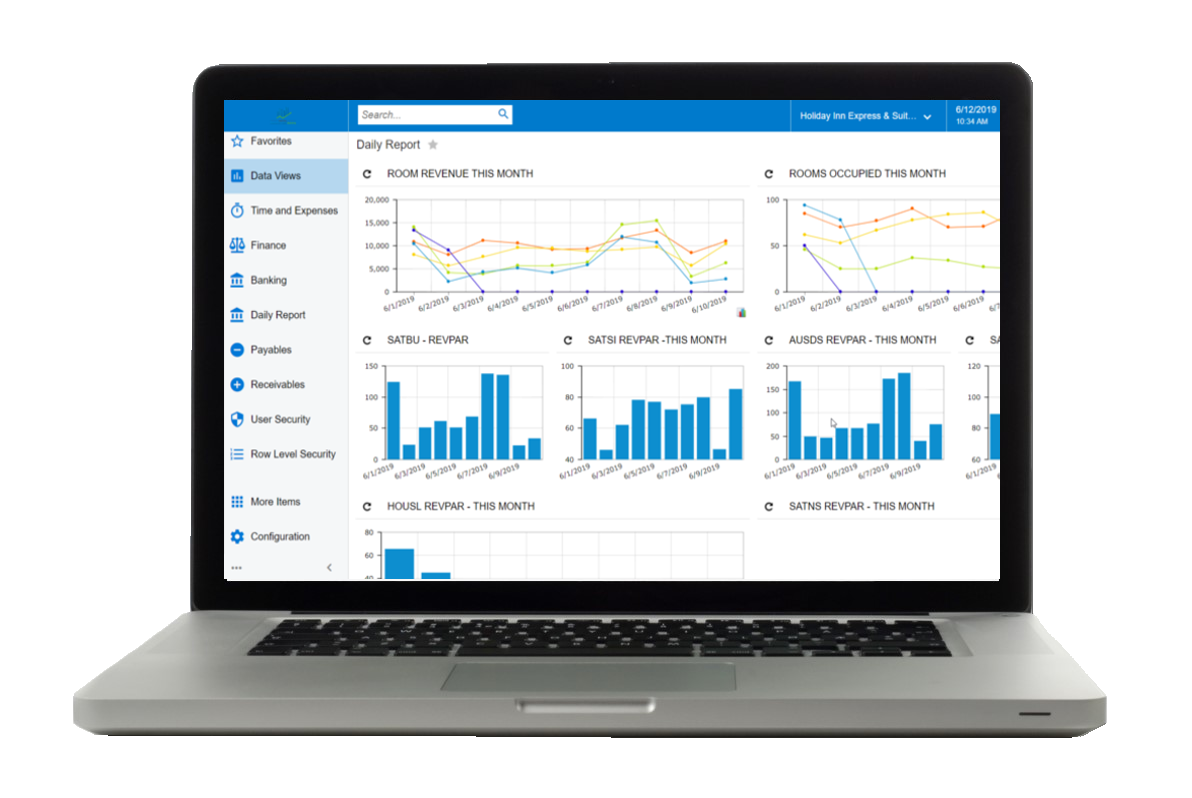 Greater Insights into Your Hotel Business
Keep All Stakeholders Informed
Fully Integrated with Power BI and Tableau
All Data Displayed in Real Time
Data Shared Seamlessly Amoung Financial Management Suite, ERP Modules, and Integrated Apps
Hoteliers and Restaurateurs can view Key Performance Indicators (KPI's) for both revenue and expenses and monitor your financial performance and reduce cost. See centralized data from multiple systems for your entire portfolio.
Stream live websites like Medallia and Trip Advisor to see and respond to on-time guest reviews. Create a standard Dashboard for your portfolio or customize per user. You also have the flexibility to have as many Dashboards to provide you with immediate insight.
Mobile App with Real-Time Reports or Data Entry
Consolidated Reports by Segment or for the Whole Portfolio
Personalized Dashboards Put Relevant Data to the Right Decision Maker
Dozens of Ready-Made Reports Plus Report Builder to Make Your Own
Reporting
Get the Information you Need to Make Informed Decisions with Dozens of Pre-Made Reports to Meet the Specific Needs of Hotel Ownership and Hotel Management Companies. 
Use the Report Builder Tool to Customize Reports to Your Exact Preferences. 
Consolidated Reporting Helps You Benchmark Expenses by Region, Ownership Group, or Any Other Segment.
Single-Version-Of-The-Truth, Real-Time, Accurate Data
Run Reports on Schedule Automatically
Drill Down to Line Item Detail, or to Original Document
Better Information to Predict Cashflow
Dashboards
Create a central repository, fully integrated, with analysis and real-time reporting power.
Instant Access to Critical Financial Data with Comprehensive and Flexible Reporting and Analysis of Ledger Accounts, Income, Expenses, and Assets. 
Favorites Menu Saves Time
User Security Restricts Access in Fine Detail
Full Audit Capabilities
Universal Search Makes Research and Navigation a Breeze
Personalized Dashboards by Job Duties
Benchmark Expenses Accross the Portfolio with Consolidated Reporting
Maintain Balances and Send Reports in Multiple Currencies
Unlimited Budget Scenarios (Optimistic, Pessimistic, Realistic)
Drill Down to Original Document from Any Transcation or Record
"Hotel Investor Apps has been crucial during this time to measure & evaluate performance for all our locations. Our leaders are closely monitoring operating costs and benchmarking it across the portfolio to identify areas for further cost optimization & reduction".
Integrated External Analysis
Power BI
Tableau
View Live Account Balances with BankConnect
Control the Creation and Delivery of Invoices
Customize Formating on Customer Statements

Process Credit Cards, Void Transactions, and Issue Refunds

Automate Deferred Revenue Calculations
"With HIA, what we really like is that the technology is leaps and bounds above our previous software. We are able to work so much more efficiently with HIA. 
The cost is very favorable compared to competition. It is not the case that you have to pay more to get more. We are getting a lot more value out of HIA than previous provider. And the functionality is powerful."