FINANCIAL MANAGEMENT
Hotel Accounting Suite
Financial Management
Hotel Investor Apps E.R.P. & Accounting Suite is a unique hotel specific total back office solution built on the fastest-growing global ERP platform.
Hotel owners, managers and support staff can: access multifaceted accounting solutions, informative dashboards, and customized financial reports most relevant to decision-making. Hotel Investor Apps is designed for ease of use with built in help guides, budgeting and forecasting, and live stream bank balances.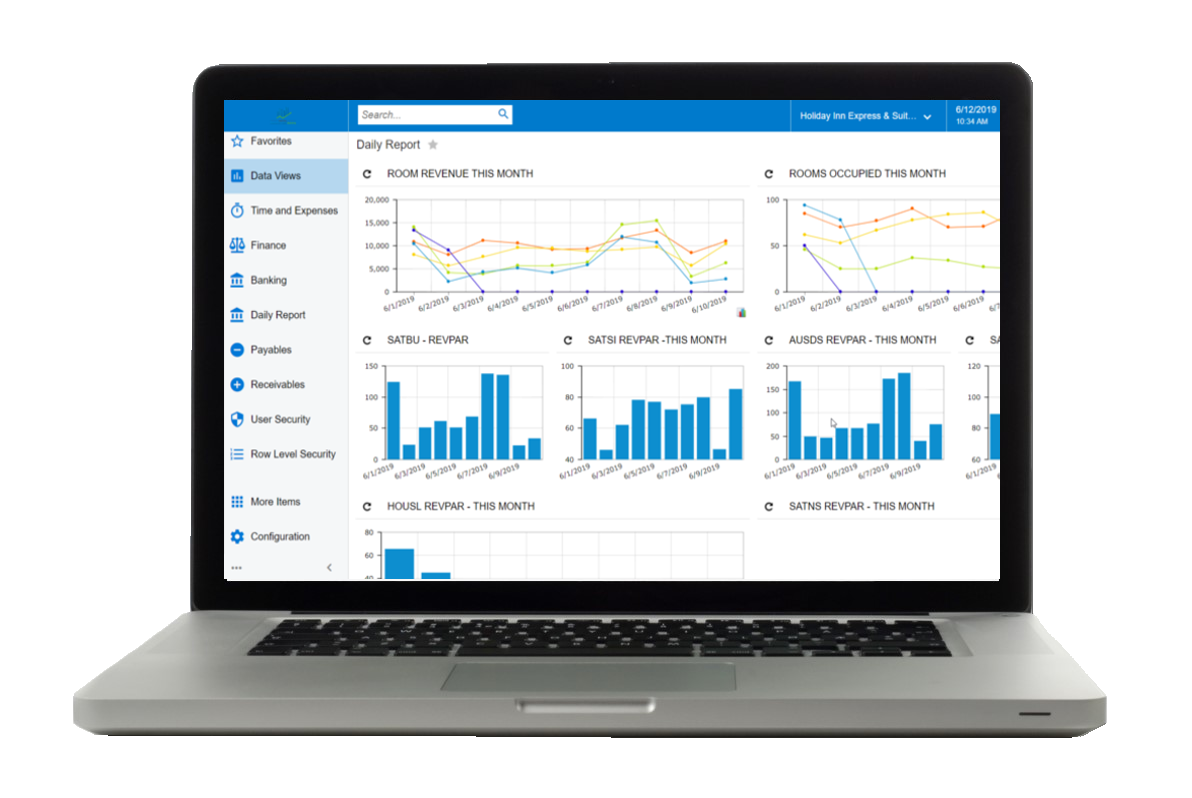 Dramatic Time Savings with More Automations to Eliminate Redundant & Tedious Tasks
Reduce Errors with Pre-Defined Defaults
Full Control with User Level Security and Audit Trails
Unique Portfolio Management Features
Manage Operations and Financials from Anywhere
Plan for the Future with Multiple Budgets, Plus Forecasting
Unbeatable Customer Support
Our trainers will guide your team through on-boarding using digital meeting software; no in-person training required.  Our support team is quick to respond to issues as they arise. For continued learning and little questions, the built-in Help Guide offers helpful articles based on your current screen.
"Hotel Investor Apps support has been amazing! I have worked with many accounting softwares before and compared to all, HIA has the best support".
Daily Report
Monitor Hotel Daily Performance
The most comprehensive report of daily hotel & F&B activities available in the industry. Fine tuned for hospitality and fully customizable for your company's needs.
Automated PMS Importing Replaces Manual Entry Eliminates Errors
Pull Multiple PMS Reports into a Single Daily Report
Automated POS Data Importing
Automated Daily Journal Entries
Automated Bank Reconciliations
Define Visibility and Access with User Level Security
"At the end of the day, accounting software is defined by ease of use and access, both measures where Hotel Investor Apps soundly outperforms its competitors. As we look for ways towards accelerating the recovery for our properties, Hotel Investor Apps provides us with a competitive edge".

General Ledger
Central Data Repository
Create a central repository, fully integrated, with analysis and real-time reporting power.
Instant access to critical financial data with comprehensive and flexible reporting and analysis of ledger accounts, income, expenses, and assets.
Favorites Menu Saves Time
User Security Restricts Access in Fine Detail
Full Audit Capabilities
Universal Search Makes Research and Navigation a Breeze
Personalized Dashboards by Job Duties
Unlimited Budget Scenarios
Maintain Balances in Multiple Currencies
"Recurring transactions are very easy to set up. Once I set a recurring expense on a schedule, it runs, literally, like clockwork. I don't need to worry about. I don't need to do anything. But it is also easy to modify".
Use Your Own Chart of Accounts, or USALI 11th Edition
Protect Sensitive Data by Controlling Who can Access Transactions
Easily Add Sub-Accounts and Pre-define New Sub Account Limitations
Maintain a Complete Audit Trail of All Journal Transactions
Benchmark Expenses Across the Portfolio with Consolidated Reporting
Drill Down to Original Document from Any Transaction or Record
"We are happy to have this great partnership with Hotel Investor Apps. The support has been amazing. The software has the flexibility to do what we need to do".
Accounts Receivable
Manage Monies Due
Accounts Receivable Software helps you track unpaid hotel invoices.  Easily generate invoices, send statements, collect and apply payments, verify balances, track commissions, and manage customer reports.
View Live Account Balances with BankConnect
Control the Creation and Delivery of Invoices
Customize Formatting on Customer Statements

Process Credit Cards, Void Transactions, and Issue Refunds

Automate Deferred Revenue Calculations
Accounts Payable
Manage Cash Flow
Accounts Payable tracks money owed, available discounts, due dates, and cash requirements.
Schedule payments to manage cash flow and optimize any available discounts and avoid late charges.
Manage vendor invoices, automate payment processing, predict cash requirements, track vendor balances, optimize available discounts, and deliver vendor reports.
Predict Cash Requirements
Attach Original Invoices to Access Anytime
Accept Pre-Payments. Pre-Payment Balance is Kept Separate
Split Payments Between Prepaid and Expense Accounts
Automatically Calculate Use Tax and VAT Tax and Prepare Filings
Use Predictive Entry for Faster Data Entry and Fewer Errors
Reduce Errors by Setting Default Accounts, Subaccounts, Payment Terms and Discounts by Vendor
Save time with accounts payable automation, a fully integrated solution. Set up processes to automatically approve for payment or follow an approval process to prioritize or delay payment. Designate bank accounts for payment or select a payment method.
Cash Management
Predict and Monitor Cash
Control day-to-day transactions, cash balances, funds transfer, and bank account reconciliation.
Monitor, predict, and manage cash across multiple entities using customizable reports and streamlined bank reconciliation processes. All of this happens in real time to support the most accurate decision making.
Easily Monitor your Cash Position with Live Bank Balances Streamed into the System with BankConnect

Manage all Your Cash Needs in One Place

Drill Down to Account Details from Any Report

Vendor or customer transactions automatically create entries in AP or AR and update appropriate balances

Transfer Between Accounts in Different Currencies
Automated Bank Reconciliation
Automatically collect all cash account transactions from Daily Reports, General Ledger, Accounts Payable, and Accounts Receivable into Cash Management for clearing and reconciliation.
Transfer funds between bank accounts and track funds that are in-transit. Transfer between accounts in different currencies, and automatically calculate realized currency gains or losses.
Simplify the reconciliation process. Add bank charges and bank interest, and record any omitted cash directly from the reconciliation screen.