Do you want to know what's really going on in your hotel? Because if you're still relying on manual data entry and sending email updates, then some critical information is slipping through the cracks.
Today's hospitality landscape is more competitive than ever, so hotels must leverage data-driven reporting solutions to stay competitive.
With real-time insights into your key performance indicators (KPIs), transparency among teams, and easy access to data, it's no wonder why hotel management is turning to cloud-based dashboard reporting solutions.
We've scoured the internet and compiled a list of our top solutions that have the power to unlock deeper insights into hotel operations and help you stay one step ahead in 2023.
What Are the Best Hotel Reporting Dashboard Solutions for Back of House (BOH) Operations?
From accounting to business intelligence, there are a plethora of data visualization tools that let you track metrics across various aspects of your hotel's BOH operations.
Luckily, we've narrowed that down to the five most essential reporting dashboard solutions that let you build a comprehensive view of your hotel portfolio's overall performance.
Here's a quick reference chart to see how each of them stacks up.
| | | | | | |
| --- | --- | --- | --- | --- | --- |
| Product Name | Data Integration | Customizable | User-Friendly | Average Score | Best for |
| Hotel Investor Apps | 9/10 | 10/10 | 9/10 | 9/10 | All-in-one business intelligence and financial management solution |
| Netchex | 8/10 | 8/10 | 9/10 | 8/10 | Streamlining your HR and payroll operations |
| REPAY | 8/10 | 8/10 | 10/10 | 9/10 | Automating your accounts payable and receivable |
| Medallia | 9/10 | 9/10 | 9/10 | 9/10 | Gaining deeper insights into experiences |
| Cloudbeds | 8/10 | 8/10 | 8/10 | 8/10 | Hotel management |
| Hotelkit Housekeeping | 9/10 | 7/10 | 8/10 | 8/10 | Optimizing your housekeeping services |
Criteria For Selecting Hotel Reporting Dashboard Solutions
When it comes to evaluating specific reporting dashboards, there are tons of potential variables to consider depending on their use case. For example, accounting solutions have different criteria than Human Resources (HR) ones.
That being said, there are a few critical components every dashboard solution should have.
Data Integration
To ensure the dashboard accurately reflects all relevant data, the solution should seamlessly integrate with whichever critical hotel system(s) you need it to pull data from.
For example, an HR dashboard might need to pull in employee performance metrics, summaries of key benefits enrollments, data from your time and attendance system, and more.
The solution should also have access to:
Real-time data so you can monitor performance and make decisions as they happen.
Historical data so you can track trends and identify patterns over time.
Customizable
A highly customizable solution provides users with the flexibility to design and tailor their dashboards according to their individual requirements, streamlining productivity and improving efficiency.
The best solutions offer:
Flexible data points, letting you focus on metrics that matter most.
Role-based layouts tailored to each user's needs.
Filters and search functions for quick information retrieval.
User-defined alerts that notify them when vital metrics exceed specific thresholds.
User-Friendly
Clarity and accessibility are key when it comes to unlocking vital business insights.
Without a simple, intuitive platform that presents data in an engaging way, users may struggle to access the information they need or, worse—misinterpret its meaning. Here's what you should look for:
An interface that's easy to navigate.
An array of visualizations to help you quickly identify trends and key information.
Flexible reporting options.
Remote access capabilities.
1. HIA Accounting & ERP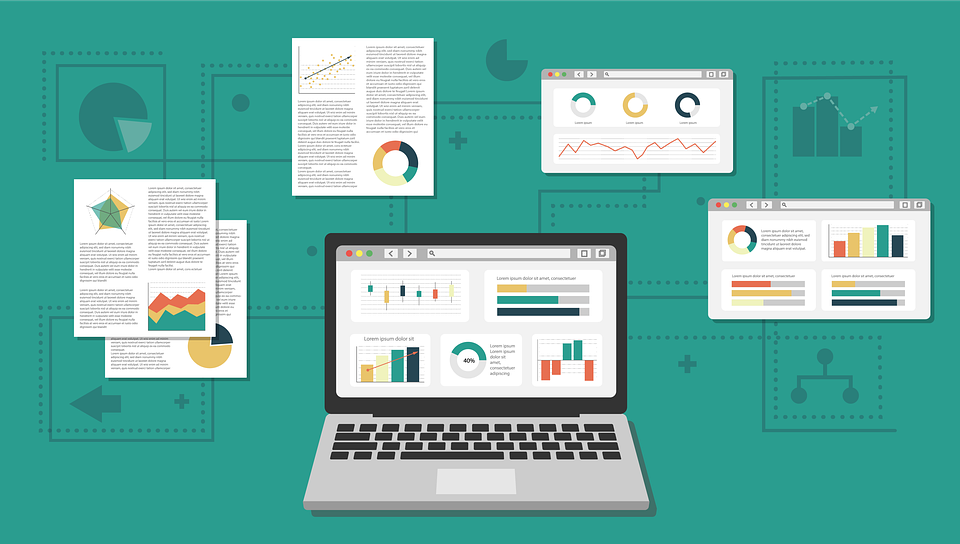 Hotel Investor Apps (HIA) is an all-in-one solution that combines business intelligence insights with cutting-edge financial management tools , empowering hotel owners to increase profits through informed decision-making.
This cloud-native dashboard reporting solution was designed with hoteliers (like you) in mind, providing an expansive set of tools and dashboards that elevate it far beyond its counterparts.
By implementing this software, you'll be able to consolidate all of your accounting and operations data into one easily-accessible platform.
Plus, its automated data entry and custom report builder lets you ditch those complicated spreadsheets  and reduces labor costs.
With enterprise-level capabilities and customizable dashboards at your disposal, you'll enjoy a sophisticated user experience and eliminate the hassle associated with many traditional solutions.
Key Features
Workflow Automation: HIA includes workflow automation for report scheduling, recurring transactions, AP approval processes, intercompany journal entries, and so much more.
Single Login: HIA integrates with dozens of critical hotel systems, allowing you to access all your information through a single platform.
Customizable Reports: With the custom report builder, you can create tailored reports.
Personalized Dashboards: Using role-based access and dashboard customizations, you can choose what information you want to see and who should see it.
Comprehensive Hotel Daily Report: HIA provides a comprehensive hotel daily report that blends financial, operational, and labor data.
Pros
Since it was built in the cloud (not retrofitted), it offers complete flexibility to integrate with your existing systems.
Automated data entry eliminates errors and streamlines entire processes.
Role-based dashboard views give users access to the information that matters most.
Allows you to access real-time data remotely to gain insights into your financials and operations no matter where you're located.
Cons
Advanced reporting features offer a wealth of insights, but they may be too much for smaller properties or portfolios.
New users have a slight learning curve before they can unlock all the amazing features and capabilities of this platform.
Why Consider It
With its advanced data analytics tools, real-time KPI tracking, and powerful modeling and forecasting capabilities, HIA is an indispensable tool for any serious hotel investor looking to succeed in this dynamic and competitive industry.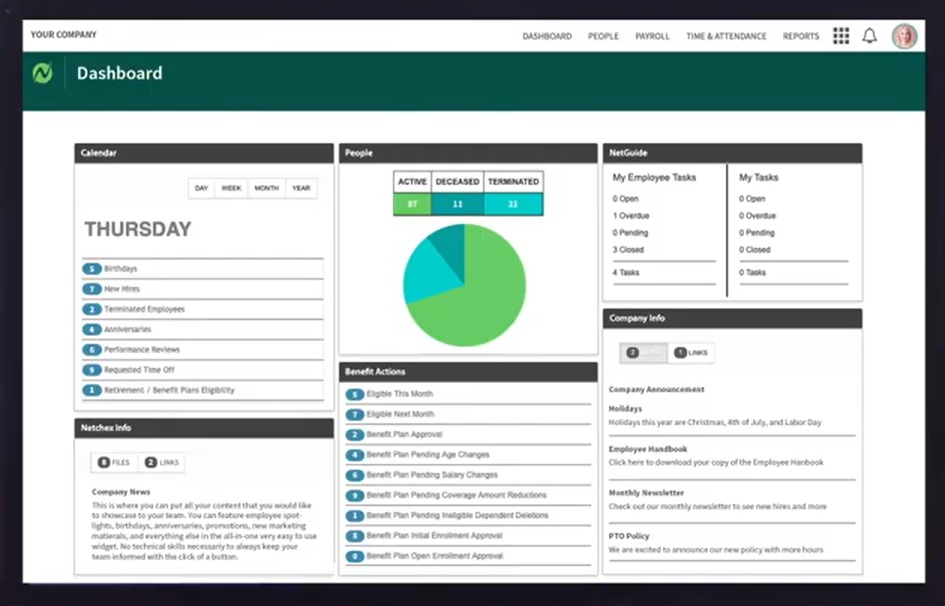 Netchex is a comprehensive Human Resources (HR) and payroll platform that helps streamline and automate processes to meet the unique needs of businesses across all industries.
This intuitive and easy-to-navigate reporting dashboard solution features drag-and-drop tools, a mobile employee app, comprehensive reporting capabilities, and third-party integrations.
You also have the flexibility to customize their workflows and reporting to meet their specific needs, including the ability to create custom reports, visualize data, and apply data filters.
Plus, it requires minimal training to use so your staff can get up to speed and act on critical information quickly.
Key Features
Real-Time Data Access: Comprehensive real-time dashboards provide actionable insights into employee performance metrics, summaries of key benefits enrollments, and more.
Pre-Built Dashboards: Choose from a wide range of pre-built dashboard templates or customize your own.
Remote Access: Since the platform is cloud-based, it can be accessed from anywhere, anytime.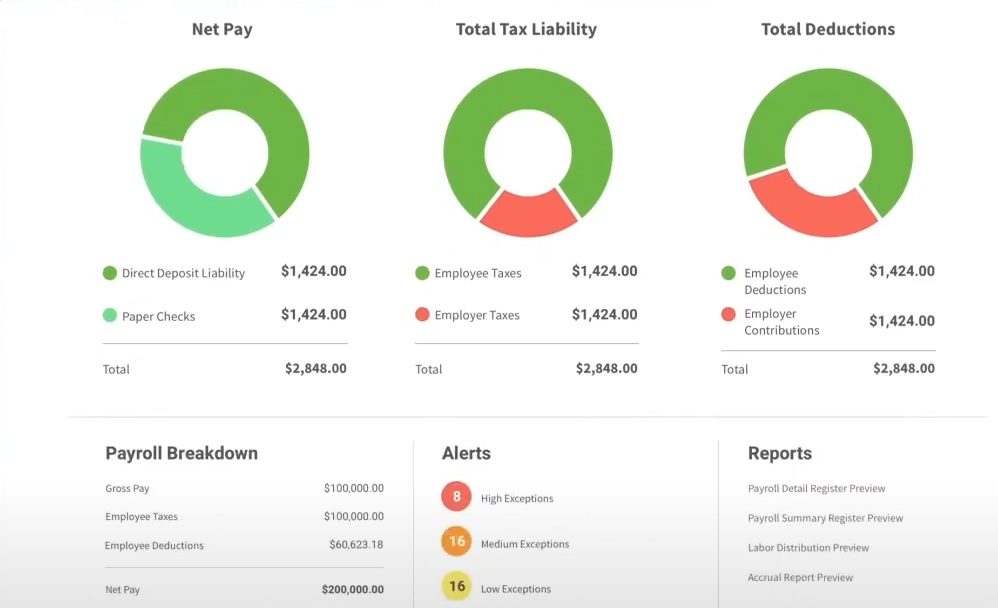 Pros
Dashboards allow staff to drill down into specific data points and gain insights into particular areas.
They have a wide range of resources and support documentation that help users troubleshoot problems on their own.
Provides you with an end-to-end HR and payroll solution that's easy to use.
Cons
While they offer comprehensive customer support, some users have reported slow response times.
It's built for small to mid-sized businesses and gets very expensive for larger portfolios.
There have been some complaints about the platform's lack of flexibility.
Why Consider It
From its user-friendly navigational system to customizable workflows and reporting, NetChex puts timely HR data at the fingertips of hotel management, allowing them to make informed decisions quickly and easily.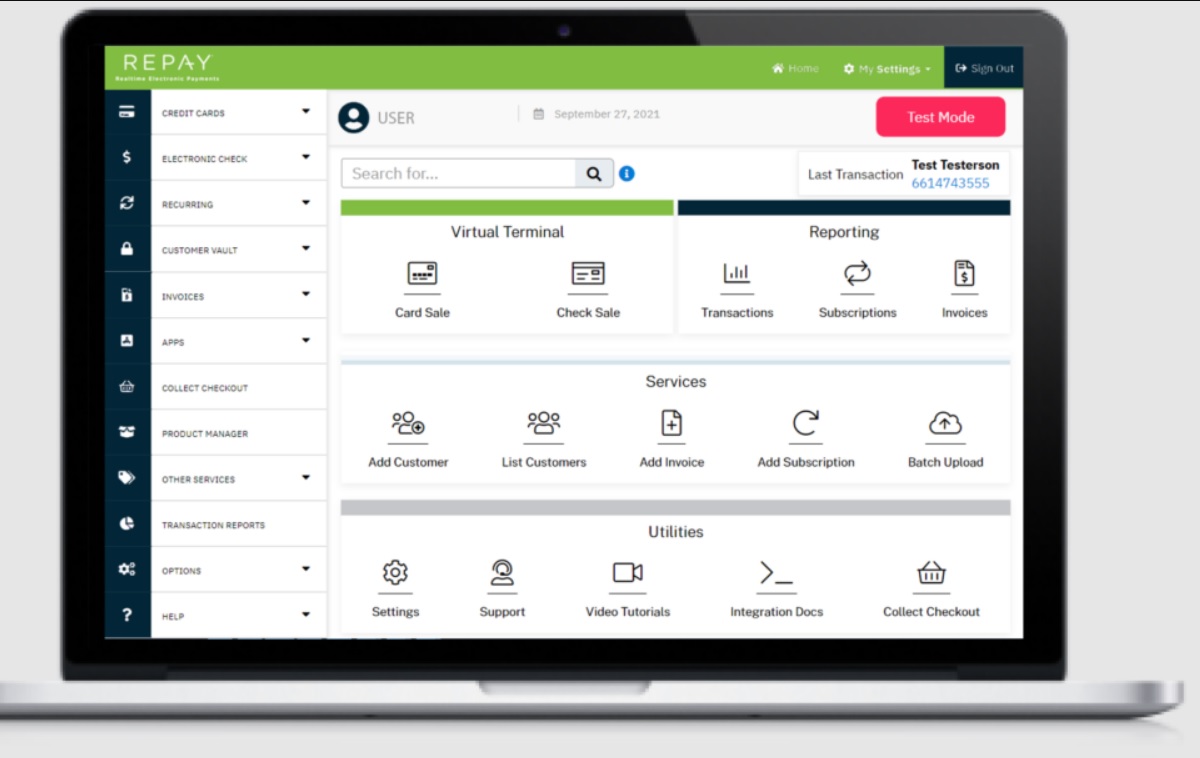 RePay is a cloud-based payment automation solution designed to automate accounts payable and accounts receivable processes.
With this software, you get real-time data and insights that you can use to help you optimize your payment processes, reduce costs, and improve customer experience.
Its user-friendly interface simplifies even the most complex payments to reduce manual inputting and potential risks of fraud or mistakes.
Plus, they offer a customer-facing electronic bill presentment and payments (EBPP) portal that makes it easy for customers to access their bills and make payments online.
Key Features
Simplified Billing: The EBPP portal lets customers access customized bills and make payments using their preferred payment method.
Real-Time Reporting Dashboard: Through detailed reports on transaction volume, revenue, chargebacks, and other critical metrics, you'll have the ability to generate customized insights to drive growth.
Convenient Integrations: Easily integrates with a wide range of accounting and financial management software systems.
Secure Platform: This solution complies with various security regulations and standards, so you can rest easy knowing your information is protected.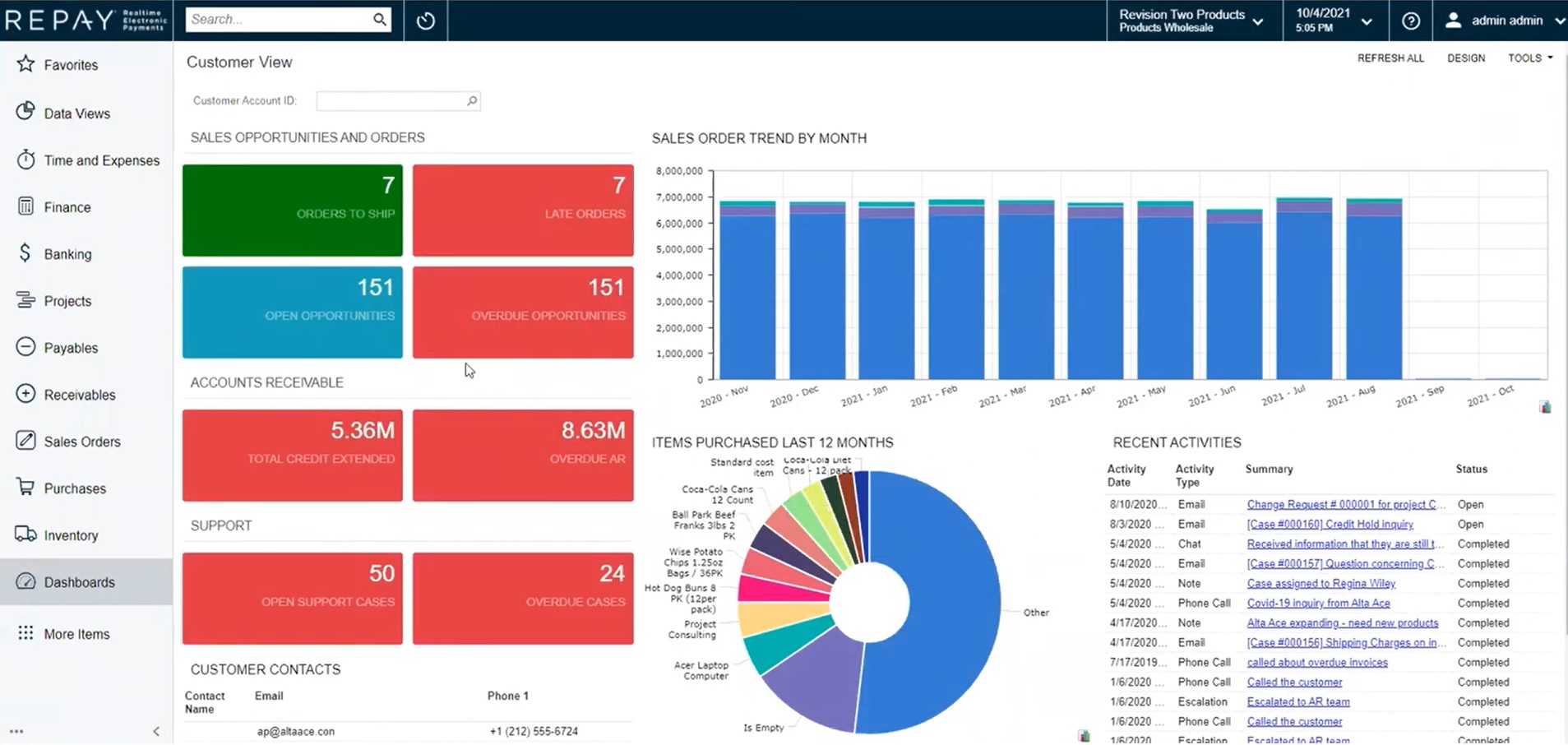 Pros
The dashboards give you a bird's eye view of your payment operations.
It integrates with popular third-party accounting software and CRMs.
The EBPP portal makes it super easy to create customized invoices and lets your customers make payments 24/7.
Cons
When it comes to customizing and using the platform effectively, there is a small learning curve.
Has a limited number of pre-built integrations.
Why Consider It
By leveraging the platform's features and tools, hotels can streamline their payment operations, reduce the risk of payment fraud, and provide a more convenient and secure payment experience for their guests.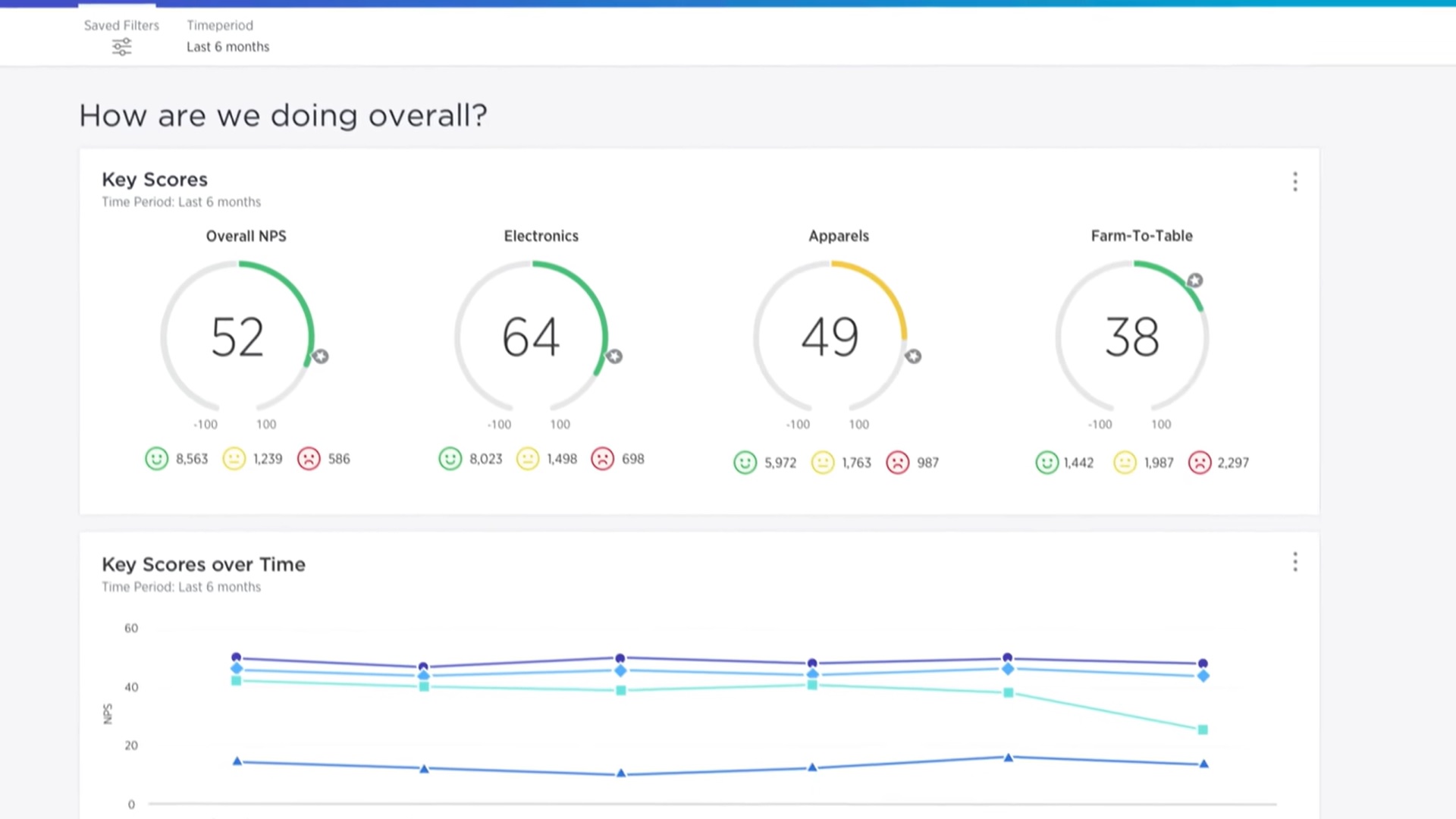 Medallia is an innovative customer experience management (CEM) solution that helps you collect, analyze, and unify feedback from both front-office and back-office teams.
The platform features customizable dashboards, multichannel consolidation, and role-based access, providing the flexibility needed for teams to make the most of their data.
By collecting insights from diverse sources, you can identify key areas for improvement, streamline communications, improve satisfaction, and increase revenue.
Key Features
Out-of-the-Box Integrations: With hundreds of powerful pre-built connectors and new partners added regularly, you'll be able to quickly integrate your existing systems.
Role-Based Dashboards: Foster a culture of continuous improvement by providing direct access to actionable feedback that empowers every employee.
Personalized Reporting: By automating personalized reports, everyone is equipped with immediate information relevant to their roles and responsibilities.
Medallia Mobile App: Take advantage of comprehensive dashboards and drill-downs to identify performance trends, compare results over locations, and stay on top of alerts—all from your mobile device.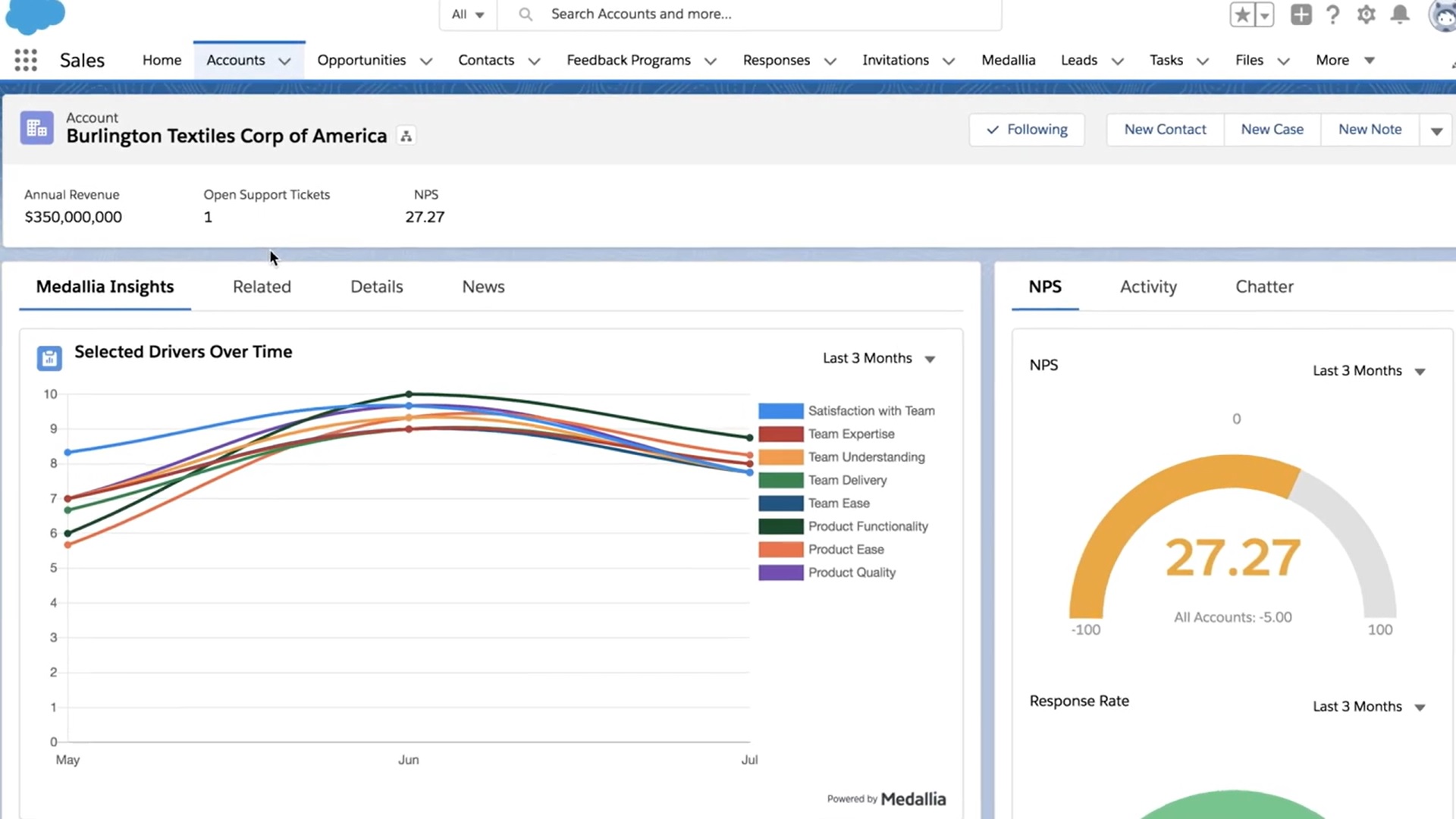 Pros
With this easy-to-use reporting dashboard solution, you'll be able to use its features right out of the box.
Everything you can do on the platform is available via mobile access.
Real-time, actionable data is accessible through personalized dashboards and alerts.
Cons
Ratings may be skewed as unhappy customers tend to be more vocal.
Some users have reported difficulty with the platform's filters.
This solution may not be the best for those with smaller portfolios.
The available add-ons can be pricey.
Why Consider It
By using Medallia's platform, hotels can improve operational efficiency, reduce downtime, and ultimately provide a better guest experience.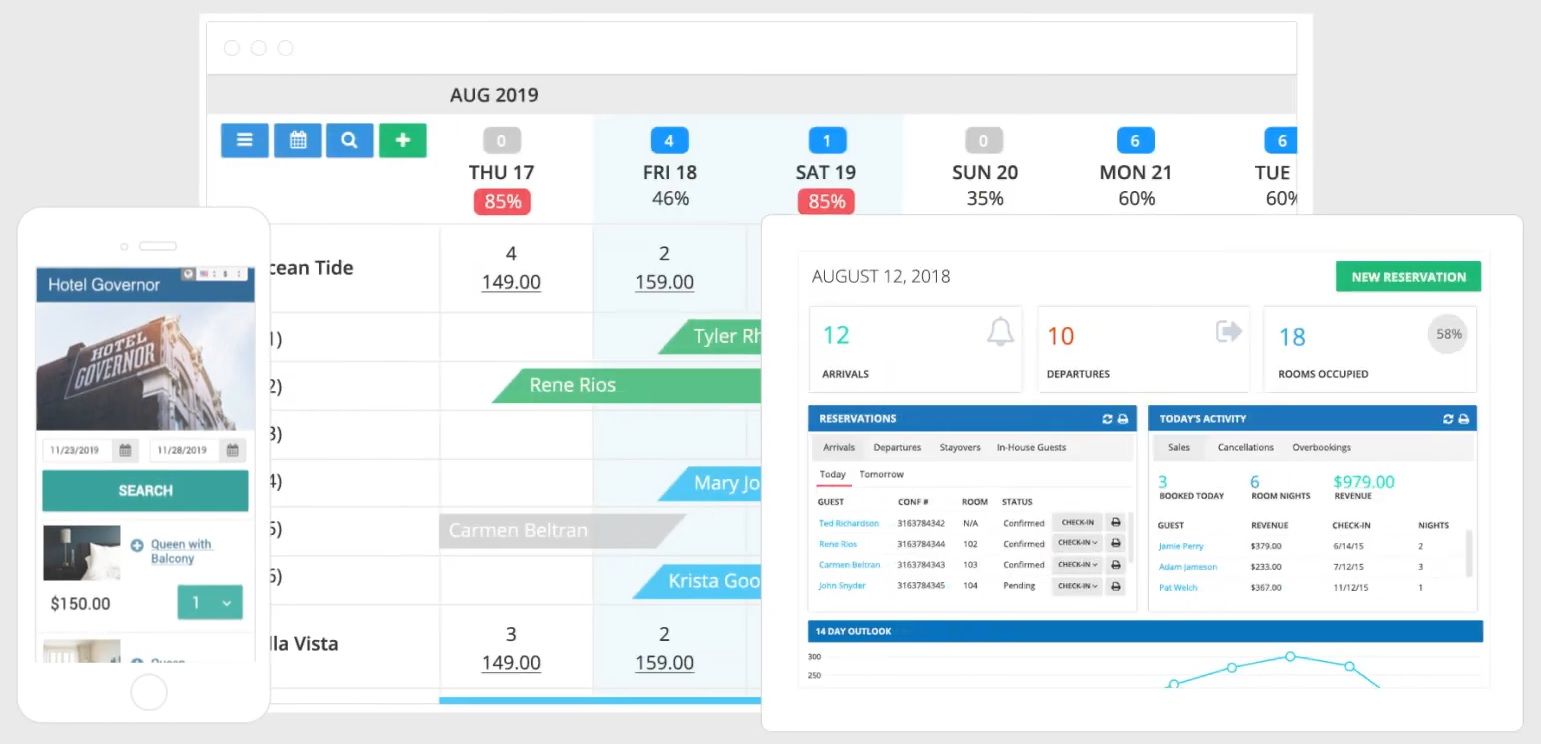 Cloudbeds is a cloud-based hotel management software that lets hotel owners organize their operations and reservations through a centralized platform.
While this dashboard reporting solution has a wide range of features and easy-to-read dashboards, its channel management capabilities truly set it ahead of the competition.
Aside from connecting to multiple online travel agencies and booking channels, you can access an array of metrics and data that are essential for back-office management, including occupancy rates, revenue per available room, and channel performance.
You'll find it easier to increase efficiency and maximize bookings with access to robust features, including hotel management, channel integration, and a powerful booking engine system.
Key Features
Channel Manager: With real-time synchronization, you can keep your channels, rooms, and rates coordinated effortlessly.
Customizable Dashboards: Choose what metrics to track and how to display them so you can monitor your performance and optimize your operation.
Booking Engine: Easy-to-understand reports, statistics, and advanced tracking features give you full visibility into all aspects of online bookings.
Channel Production Reports: Analyze booking sources, commission rates, revenue, and average daily rate (ADR) to develop strategies that maximize financial gains while boosting customer satisfaction.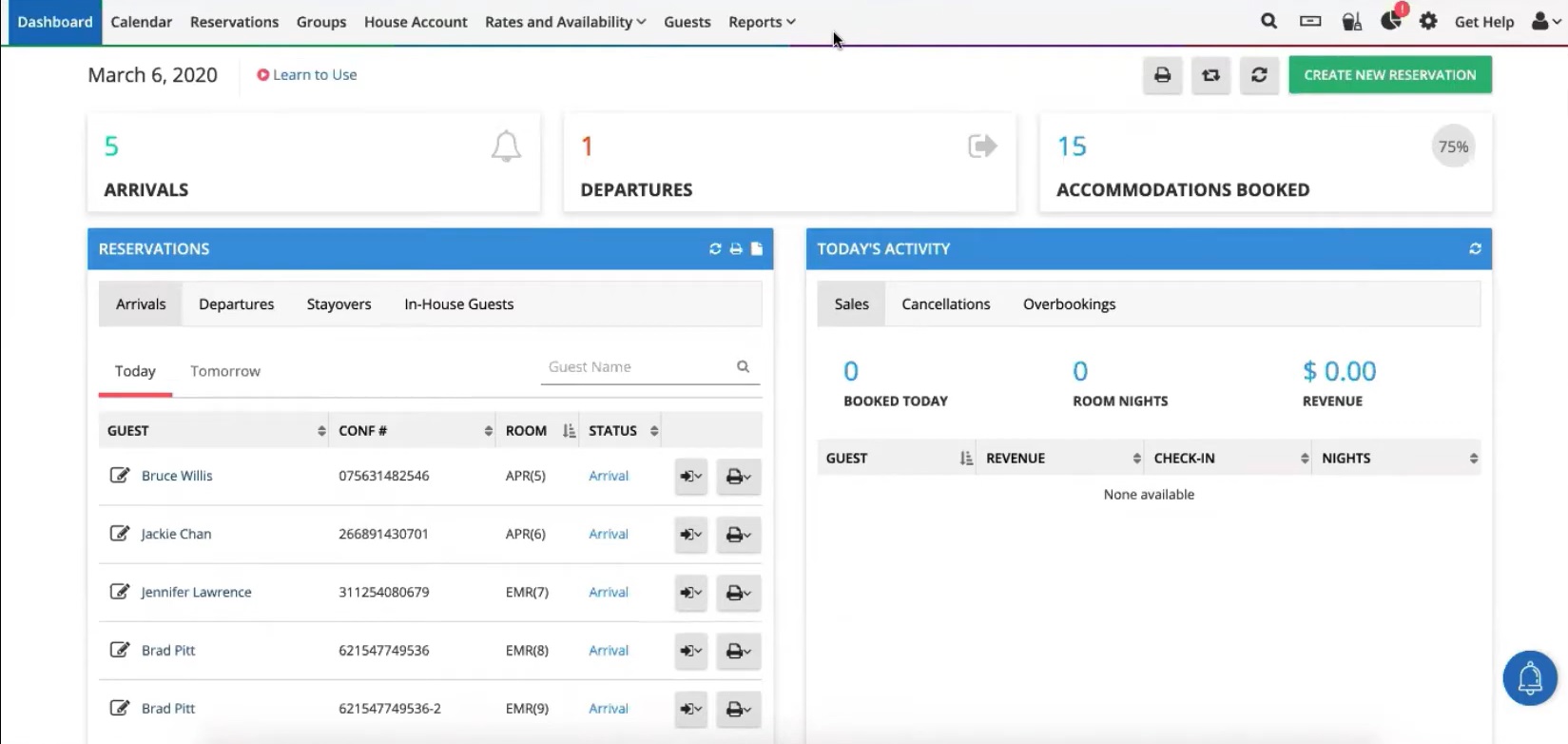 Pros
The platform has an easy-to-use interface, letting you see what you need when you need it.
Significantly reduces or eliminates double bookings across multiple channels.
The booking engine integrates with other sources.
Cons
Users have reported that the response times are very slow, and no dedicated support is offered per property.
It does not have any accounting reports.
It lacks a mobile view or application of the platform, making it difficult to navigate on the go.
Even though it allows you to customize the dashboards, some users have noted that filters and searches are a bit clunky.
Why Consider It
With a range of powerful features and a user-friendly interface, Cloudbeds is a popular choice for hotels of all sizes.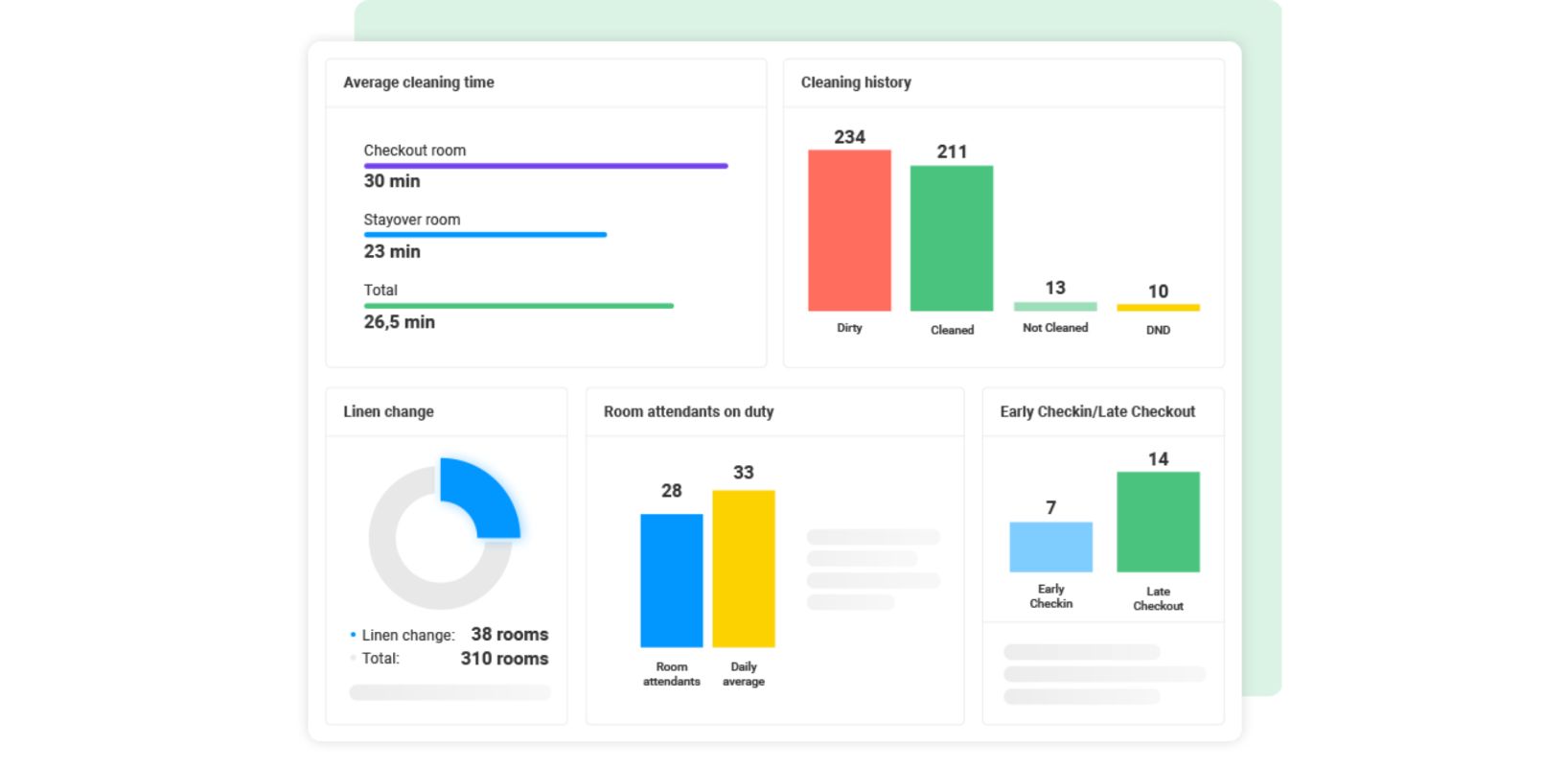 Hotelkit Housekeeping provides an innovative solution to hoteliers struggling with managing daily operations and optimizing housekeeping services.
This solution lets you monitor room statues in real time, track service requests, and automate communication between departments so your staff can quickly identify and respond to whatever tasks need attention.
This helps you reduce the amount of time and resources required to manage your housekeeping operations, increase efficiency, improve guest satisfaction, and ultimately drive revenue growth.
Key Features
Real-Time Management: Between automated maintenance requests and built-in messaging, staff members can communicate with each other instantly.
Comprehensive Integrations: This solution integrates with other hotel software to provide a comprehensive solution for hotel management.
Mobile Compatibility: Everyone can access the platform and its features from anywhere.
Inventory Management: Housekeeping can keep an eye on and manage cleaning supplies and amenities on the platform so there are no shortages or delays.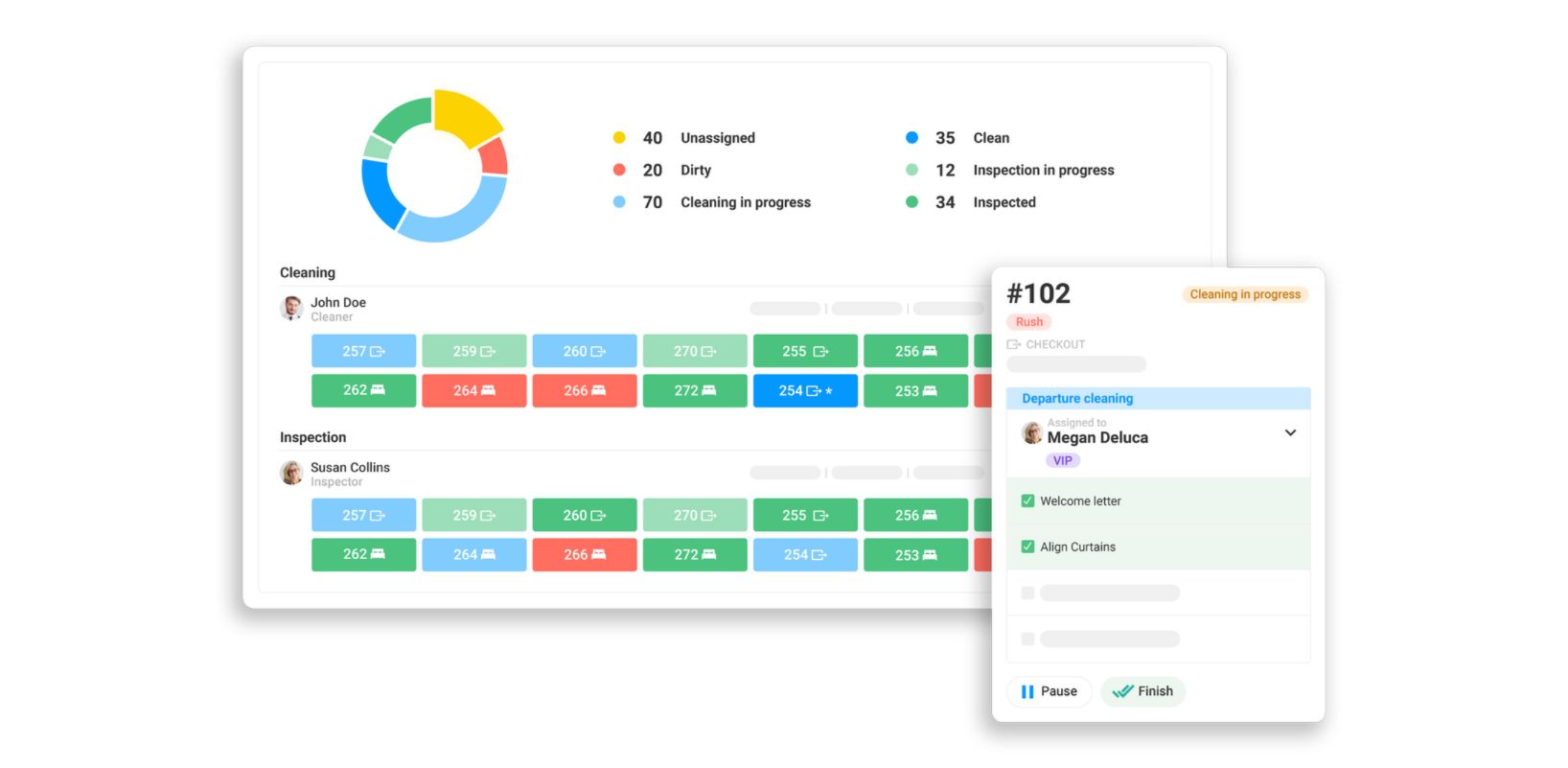 Pros
Super easy for users to communicate with other departments.
The platform's real-time updates make it extremely fluid for multiple teams to access the necessary information.
It's built specifically for hotels, so it integrates seamlessly with your existing systems.
Cons
The system sends notifications with certain requests and activities, which can be a bit much to filter through.
Some users reported wanting more language options.
Lacks some additional features that add convenience to housekeeping management, such as refuse/delay requests, visibility into overnight check-ins, stayovers, and more.
Why Consider It
Its comprehensive suite of features, user-friendly interface, and focus on housekeeping management make it a powerful tool for any hotel looking to improve its performance and guest satisfaction.
Final Thoughts
Well, there you have it—our top six reporting dashboard solutions that can help manage and streamline your BOH operations.
While some of these reporting dashboard solutions make your life easier, financial management and business intelligence reporting dashboard solutions are essential for managing your properties.
And HIA stands out from the crowd.
With its powerful automation, customizable reports, and sophisticated user experience, it's a comprehensive all-in-one solution that can help you increase profits and make informed decisions.
So if you want to take your hotel portfolio's overall performance to the next level, schedule a demo and join the others who have optimized their hotel's performance.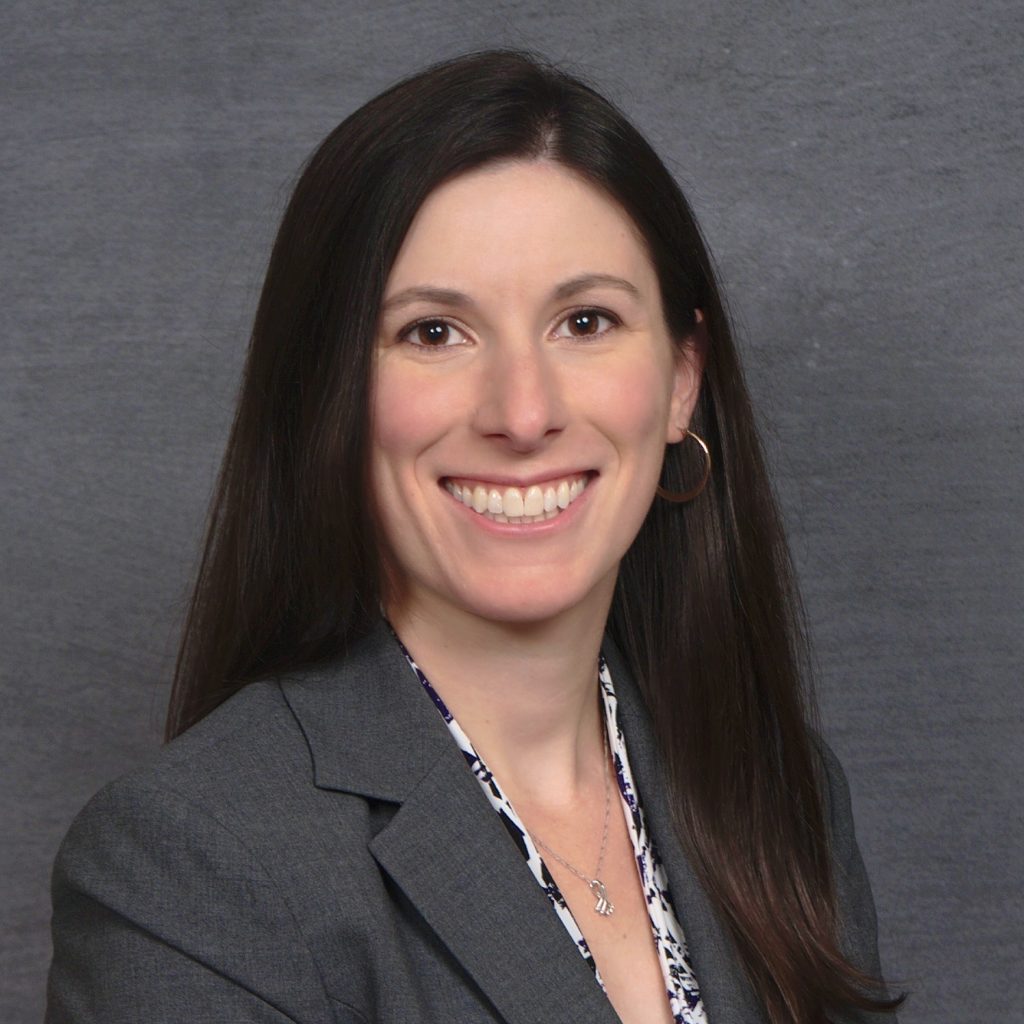 Jaime Goss has over a decade of marketing experience in the hospitality industry. At Hotel Investor Apps, Jaime heads up marketing initiatives including brand strategy, website design, content, email marketing, advertising and press relations.