In today's digitally driven world, hoteliers no longer need to commit vast amounts of time and energy into juggling multiple spreadsheets and manual data entry—they have cloud-based accounting software to do it for them!
If you're thinking of switching or just trying to streamline your finances, you want to ensure that the software you choose fits your hotel's operational needs before making the change.
That's why we've put together a list of our top five best cloud-based accounting software solutions that are guaranteed to improve your financial processes and overall operations.
Whether you have a small hotel portfolio or have been running a successful hotel enterprise for years, at least one of these solutions will meet all of your business's financial needs.
Which Cloud-Based Accounting Software Is Best for Hotels?
When it comes to selecting the right cloud-based accounting software solution for your business, you have to ask yourself: 
Is this solution only hosted in the cloud, or does it offer full capabilities as a

truly cloud-based option

? 

Does its design make specific considerations around hotel management and other needs beyond basic accounting functions?
After all, these factors make a huge difference in the software's ability to integrate with your existing systems and perform the necessary tasks every hotel manager has to deal with on a day-to-day basis.
With that in mind, our team of experts evaluated five of the top cloud-based hotel management software solutions available today.
Here's a reference chart of our top picks.
| | | | | | |
| --- | --- | --- | --- | --- | --- |
| Product Name | Reporting Capabilities | Ease of Use | Integration | Average Score | Best for… |
| Hotel Investor Apps | 10/10 | 9/10 | 9/10 | 9/10 | Combining all your hotel systems under a single login |
| M3 | 7/10 | 8/10 | 6/10 | 7/10 | Managing hotel-specific finances |
| Oracle NetSuite  | 6/10 | 8/10 | 6/10 | 7/10 | Syncing your finances with your CRM |
| Nimble Property | 7/10 | 8/10 | 7/10 | 7/10 | Incorporating Accounting software with bookkeeping |
| FreshBooks | 4/10 | 9/10 | 4/10 | 5/10 | Basic invoicing and accounting needs  |
Criteria For Selecting the Best Cloud-Based Accounting Software for Hotels
While there are a variety of factors to consider when choosing an accounting solution, there are a few key components that will ensure the software successfully integrates with your business.  
Reporting Capabilities
Data is the key to identifying trends, measuring performance accurately, and generating valuable financial insights for hotels—and your accounting software should do all the heavy lifting for you.
The best cloud-based accounting software solutions come equipped with:
Robust reporting capabilities (hotel-specific, real-time, customizable, statement generation, etc.)

Access to in-depth analysis tools to enable better forecasting, budgeting, and decision-making

Automated reporting for improved accuracy and efficiency

Built-in dashboards to provide a quick, high-level overview of operations
Ease of Use
Advanced reporting features are useless if your staff can't figure out how to navigate or generate them.
A good accounting solution should be easy to set up and use. This way, your staff can quickly become familiar with the system without spending a lot of time training.
Additionally, your chosen cloud-based accounting software should include:
Customization options

Stellar customer support and resources 

Remote access for on-the-go management

Role-based access
Integration
Seamless data integration is essential for hotel systems to function at peak efficiency and maximize profits. 
Your chosen accounting software should be able to integrate with your other existing hotel solutions, such as property management systems (PMS), point of sale (POS), payroll, and STR. 
HIA is a comprehensive cloud-based financial management and business intelligence solution revolutionizing how hotel managers handle their back-office operations. 
With HIA, you won't have to deal with outdated accounting systems or worry about having to manually update spreadsheets. 
Their all-in-one solution has everything you need to transform your hotel's data into actionable insights, from real-time dashboards to fully customizable reports.
This accounting solution is perfect for hotel owners and management teams looking to maximize efficiency and profits.
Key Features
Truly Cloud-Based

: Unlike other platforms, HIA was designed for the cloud (not retrofitted), so you can maximize cloud capabilities and seamlessly integrate your existing systems.

User-Friendly Dashboards

: From managing your accounts to viewing daily performance, you'll have access to tailored dashboards that make it easy to visualize complex information quickly and efficiently.

Automated Reporting

: Cut out manual inputting mistakes while gathering all the data you need from your PMS, POS, daily journal entries, bank reconciliations, and more.

Role-Based Access

: Ensure users only have access to the dashboards,  tools, and data they need to perform their job responsibilities. 

Central Data Repository

: Integrate real-time analysis capabilities with personalized dashboards to ensure error-free financial reporting.

Customizable Reports

: Choose from various pre-built report templates or create your own to see the data that matters most.
Pros 
Dashboards can be customized to fit specific roles and tasks, so users don't need to search for the data they need.

Automation saves time and helps reduce errors.

Remote/mobile access to the software ensures your business runs effectively from anywhere in the world.

Easy to use and navigate—even for beginners.
Cons
Advanced reporting features and capabilities might be too much for single properties or smaller portfolios.

New users must overcome a slight learning curve to access all of the unique features and functionalities.
Why Consider It
The user-friendly interface of HIA makes navigation quick and easy, and the advanced analytics tools simplify financial analysis so you can make data-driven management decisions.
Plus, automated data integration and automated functionality help you close your monthly books faster.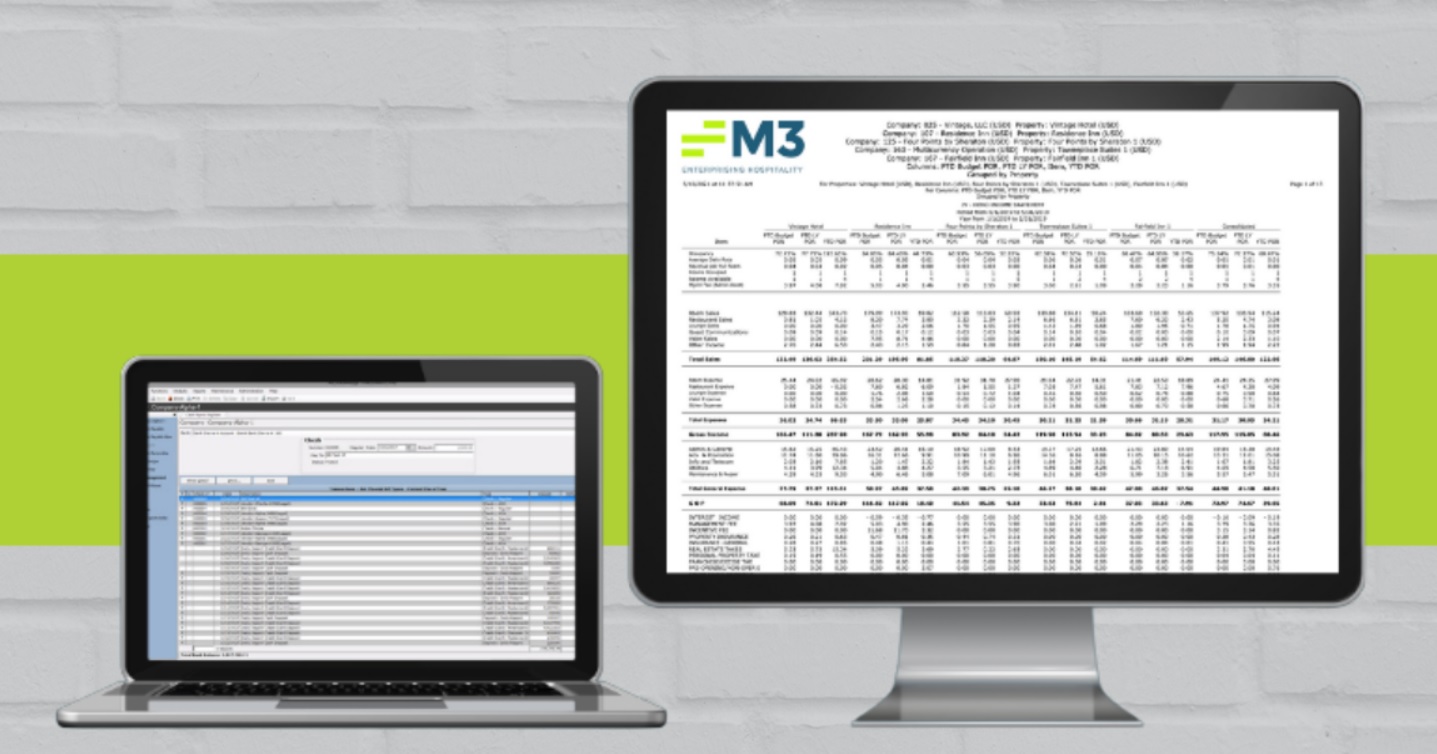 M3 is one of the oldest and most well-known hotel accounting software available today. 
This cloud-hosted solution unifies financial analytics, supply chain optimization, procurement automation, sales tracking, and project oversight in one powerful platform.
From better visibility across properties to more efficient operations, their accounting software solution offers a comprehensive set of features to improve the financial performance of any hotel portfolio—no matter what size.
Key Features
Customizable Reports

: Built your own custom reports to see data just how you want it, including JEs, checks, invoices, vendor budgets, and historical info.

Core Accounting Modules

: This solution uses a suite of core accounting modules to provide intuitive tools to identify trends across multiple properties and optimize financial performance.

Streamline Taxes

: Make tax time easier with predetermined tax rates for sales, use, and VAT, as well as 1099 and 1096 forms. .

Advanced Planning and Management Tools

: Make your planning and management easier with tools that help you quickly set up budgets, accurately forecast multiple periods, and track construction projects.
Pros 
It has everything you need to monitor and manage your finances and operations accurately. 

Customized reports let you get only the information you need.

It has a user-friendly interface that's very easy to navigate once you understand it.
Cons
It has limited cloud functionality as it's cloud-hosted.

Customization options come with a steep learning curve.

Very few updates to the infrastructure have been made since the software first launched 20 years ago.

It lacks dashboards to track relevant KPIs and daily operations. 

Even though it can integrate with most PMS systems, it offers only loose integrations with other hotel software systems and lacks integration options with new providers.
Why Consider It
As one of the most popular options, M3 offers businesses the flexibility and scalability to grow and manage their finances effectively.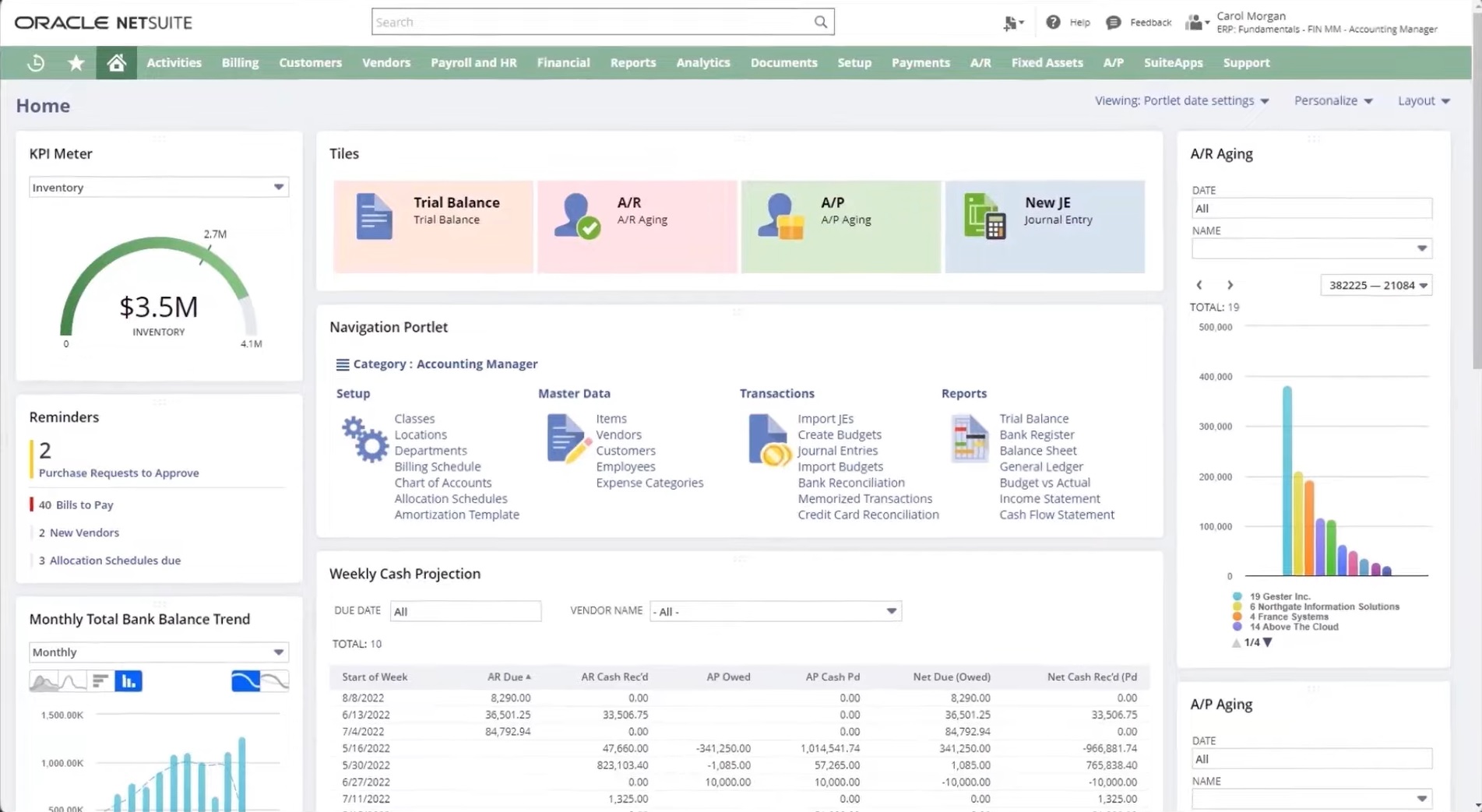 Oracle NetSuite is a cloud-based enterprise resource planning (ERP) software solution designed to manage your finances and operations. 
While it's not specifically designed for hotels, it has general features that may be suitable for certain businesses.
This lightweight solution features integrated financial management capabilities and a wide range of real-time operational support for accounting, order management, customer service, and more.
From expense tracking and tax collection to accounts receivable/payable management, this software simplifies tedious accounting tasks and saves you time. 
Key Features
Built-In CRM:

This solution has a built-in CRM so you can track customer interactions and preferences.

Financial Planning

: Take control of your financial planning with budget and forecast management tools.

Real-Time Reports

: Whether it is finances or customer relationships, your business will be able to access the most recent insights.

Cash Management

: Use cash management tools to track all your revenue streams, invoicing, schedule renewals in advance for upsells and cross-sell opportunities, and more.
Pros 
Customizable dashboards let you see the metrics you want right when you log in.

The software can support businesses of all sizes.

It helps you improve your financial performance by leveraging the power of automation to streamline workflows and simplify reporting.
Cons
It does not offer hotel-specific functionality such as hotel daily reporting. 

It doesn't offer a wide range of customizable reporting options.

Integrations with third-party vendors typically come with an additional subscription price.

With limited integrations to industry-specific software such as property management systems (PMS) and point-of-sale (POS), you might have to manually enter the data into these systems.

Unless you pay for premium support, you'll have limited access to customer support.
Why Consider It
With its powerful analytics capabilities, automated reporting features, and scalability, NetSuite provides a complete view of your financials, helping you optimize operations, control costs, and make smart decisions.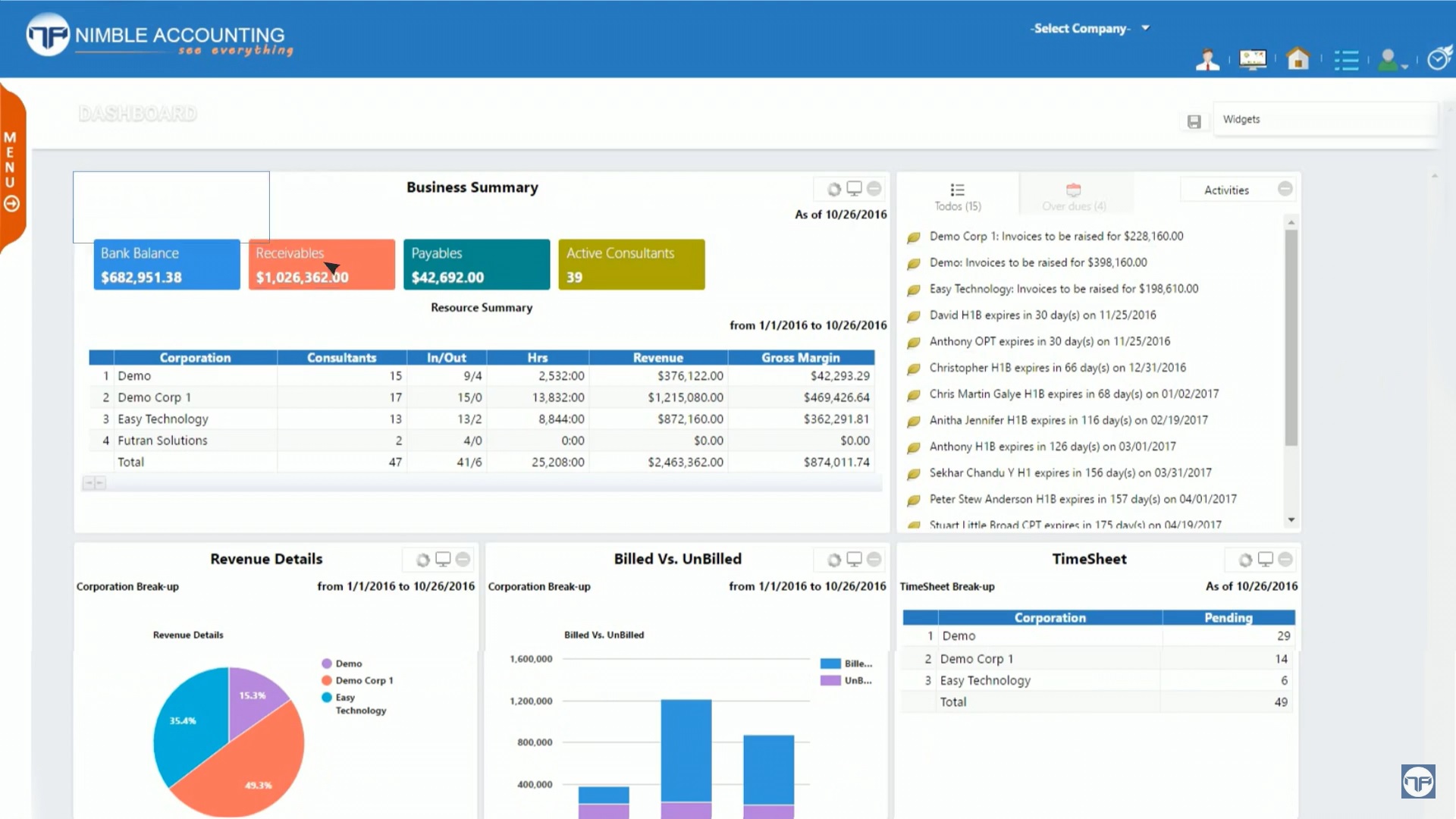 As a subset of Nimble Accounting, Nimble Property is cloud-based software designed specifically for property management. 
It offers powerful reporting features that help you gain valuable insight into your financial performance and simplify all aspects involved in hotel accounts.
With integrated vendor management and real-time data access anywhere you have an internet connection, it allows you to monitor performance across multiple hotels with one centralized dashboard.
Key Features
Advanced Budgeting

: Compare your projected figures side-by-side with actual revenue and expense numbers for an up-close look at where changes can be made for improved performance.

Analytics Dashboard

: Gain timely insights to help you identify and understand areas for improvement, allowing you to take action quickly and effectively.

Automation

:  Automation provides a convenient way of generating all the necessary banking reports, eliminating manual steps from bank account reconciliation activities.

Benchmarking and Reporting

: Generate invoices, financial reports, bank statements, P&Ls, balance sheets, and inter-company transfers effortlessly to increase efficiency in handling core administrative processes.
Pros 
This solution has a flexible interface which makes it very easy to use.

Since it's tailored to the hospitality industry, it simplifies all aspects of hotel accounts and integrates seamlessly with existing systems.

The centralized dashboard allows you to track your chain's performance and automate vendor operations to better meet customer needs.
Cons
Despite integrating with most PMS systems, it doesn't automate everything, so manual entry is necessary.

Customer support and resources are lacking in some areas.

There is a fairly steep learning curve.

There is no mention of customizable reporting options.
Why Consider It
Nimble provides an intuitive and easily accessible platform to help manage multiple properties at once.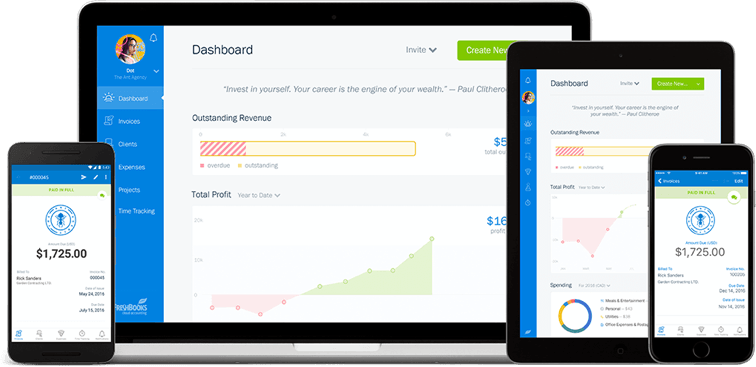 While it's not designed for hoteliers, FreshBooks is one of the most widely used cloud-based invoicing and accounting software for small to mid-sized businesses across different industries.  
Its simple, intuitive interface makes it easy to track income and expenses, create invoices, manage clients, collaborate with colleagues, and more.
The FreshBooks platform helps business owners streamline their financial processes, manage their cash flow, and minimize manual errors—all without needing extensive accounting experience.
Pros 
It's cloud-based, meaning You can access the system remotely to view your finances on the go.

The platform is easy to use, and the invoices are completely customizable.
Cons
It's not designed for hotels and lacks functionality for managers with more than 1 or 2 properties. 

The software lacks standard hotel reporting and the ability to generate custom reports needed for your unique business. 

The platform only offers basic accounting solutions.

Doesn't offer budgeting or forecasting. 

There are no PMS integrations.
Why Consider It
Freshbooks is a cost-effective, user-friendly, and streamlined platform for owner-run properties with simple operations, such as a small B&B or single motel, looking for basic accounting software. 
The Overall Best Accounting Software for Hotels
Each of the above solutions may be the best for you, depending on your needs, portfolio, and property type.  However, when evaluating these solutions for the typical hotel management company with a portfolio of 5 or more hotels (limited or full-service, branded or independent), there is one solution that stands out from the rest in functionality, Hotel Investor Apps. 
Switching to new accounting software can be time-consuming and costly. But if your solution wasn't built for hotels or doesn't have all the features you need, it will end up costing you more in labor, inefficient operations, and lost revenue opportunities in the long run.
That's something you'll never have to worry about with HIA. Our platform is designed specifically for the hospitality industry, giving you an all-in-one solution for all your accounting and business intelligence needs. Schedule a demo and find out why HIA is the most comprehensive accounting software for the hotel industry available on the market today.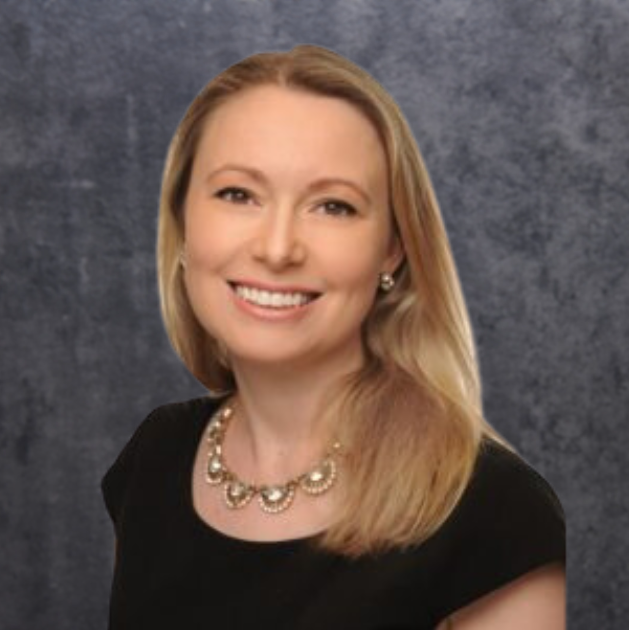 Director of Marketing at HIA
Elisa Fritsch, Director of Marketing at HIA, contributes 15 years of diverse sales and marketing experience from corporate to start-up environments. In the hospitality sector, she managed B2B marketing for notable companies like Choice Hotels International and Kalibri Labs. As an award-winning real estate agent with ReMax Realty Centre, she further honed her skills. At HIA, Elisa focuses on inbound and content marketing, leveraging her industry knowledge to drive growth.