While having a fully booked hotel is something every hotel owner or manager desires, the truth is it's not enough. Why? 
Because being fully booked doesn't mean you're maximizing your revenue. The only way to achieve this is to have a strategic pricing strategy that takes into account various factors such as market demand, competitor pricing, and seasonality.
That means you need a hotel revenue management system (RMS) and business intelligence (BI) solution working hand-in-hand to help you optimize your hotel's revenue potential and stay ahead of the competition.
In this article, we will explore some powerful hotel RMSs that pair perfectly with your BI solution; and if you don't have a BI solution, we've got you covered.
What Are the Best Revenue Management Systems for Hotels?
While your RMS is crucial for optimizing pricing and occupancy, pairing it with a BI solution is equally important.
Without BI, hotels may be unable to extract their RMS's full potential, resulting in missed revenue opportunities. By pairing your RMS with a BI solution, your hotels can:
Optimize pricing strategies
Respond to market fluctuations in real-time
Compare your revenue and revenue forecast against your budget and forecast
Improve projections for staffing trends & needs
Plan for capital projects based on cash flow
Review historical data in BI with revenue forecast
For this reason, all of our RMS options are primed to work with BI. Here is a quick comparison chart to give you an overview of our top picks.
| | | | | | |
| --- | --- | --- | --- | --- | --- |
| Product Name | Ease of Use | Flexibility | Integrations | Average Score | Best for |
| Duetto | 9/10 | 8/10 | 8/10 | 8/10 | Large hotel portfolios that need advanced analytics and automation |
| IDeaS | 8/10 | 9/10 | 9/10 | 9/10 | Large large portfolios that need a customizable and scalable solution |
| Kriya RevGEN | 8/10 | 7/10 | 8/10 | 8/10 | A cost-effective revenue management solution |
| Atomize | 9/10 | 7/10 | 8/10 | 8/10 | A lightweight solution that uses machine learning to optimize revenue |
| Pace Revenue | 8/10 | 7/10 | 8/10 | 8/10 | Hotels of all sizes that want to take a data-driven approach to revenue management |
Criteria For Selecting Revenue Management Systems for Hotels
As you explore different RMS options for your hotel, there are quite a few things to think about. But one thing's for sure: finding a system that compliments your hotel's needs and operations is a must.
To find the best solution for you, we recommend evaluating:
Ease of Use
Ease of use should be a top priority when selecting an RMS. After all, you want your team to quickly embrace the new system and make the most of its features without a hitch.
When choosing your RMS, ask yourself:
Does it have a user-friendly design that's easy to navigate and find the necessary tools?
How fast can you onboard the solution (does it have a steep learning curve)?
Can you customize the dashboards to suit your hotel's needs?
Do they have a responsive support system to help answer questions and concerns?
Flexibility
As the hospitality industry gets more dynamic, a flexible RMS is your secret weapon for staying ahead of the game.
With a versatile RMS, you can effortlessly adapt to ever-changing market trends, craft strategies that suit your hotel's specific needs, and seize new revenue opportunities as they arise. Here are some things you want to ask:
Can the system scale with your hotel, accommodating growth and changes without compromising performance or ease of use?
Does it allow customization of revenue management strategies, pricing models, and discount structures to suit your hotel's unique needs?
Can the system adjust room rates dynamically based on real-time demand, seasonality, and other factors?
Does it support centralized management of multiple properties?
Is the system adaptable to market changes, incorporating new industry trends, emerging technologies, and evolving customer behaviors?
Integrations
By choosing an RMS that clicks seamlessly with your hotel's existing systems, you're laying the groundwork for a cohesive software environment.
This network helps your team make well-informed decisions, opens the door for new revenue opportunities, and allows you to create unforgettable experiences for your guests.
You want to ensure your RMS can integrate with your:
Property management system (PMS) so it can exchange data and improve operational efficiency
BI tools so you can make strategic decisions based on in-depth data analytics, forecasting, and reporting
Customer relationship management (CRM) tools so you can enhance guest experience and personalize your marketing efforts
Accounting software so you can track revenue and analyze financial data in real-time
Channel management systems so room inventory and pricing can be centralized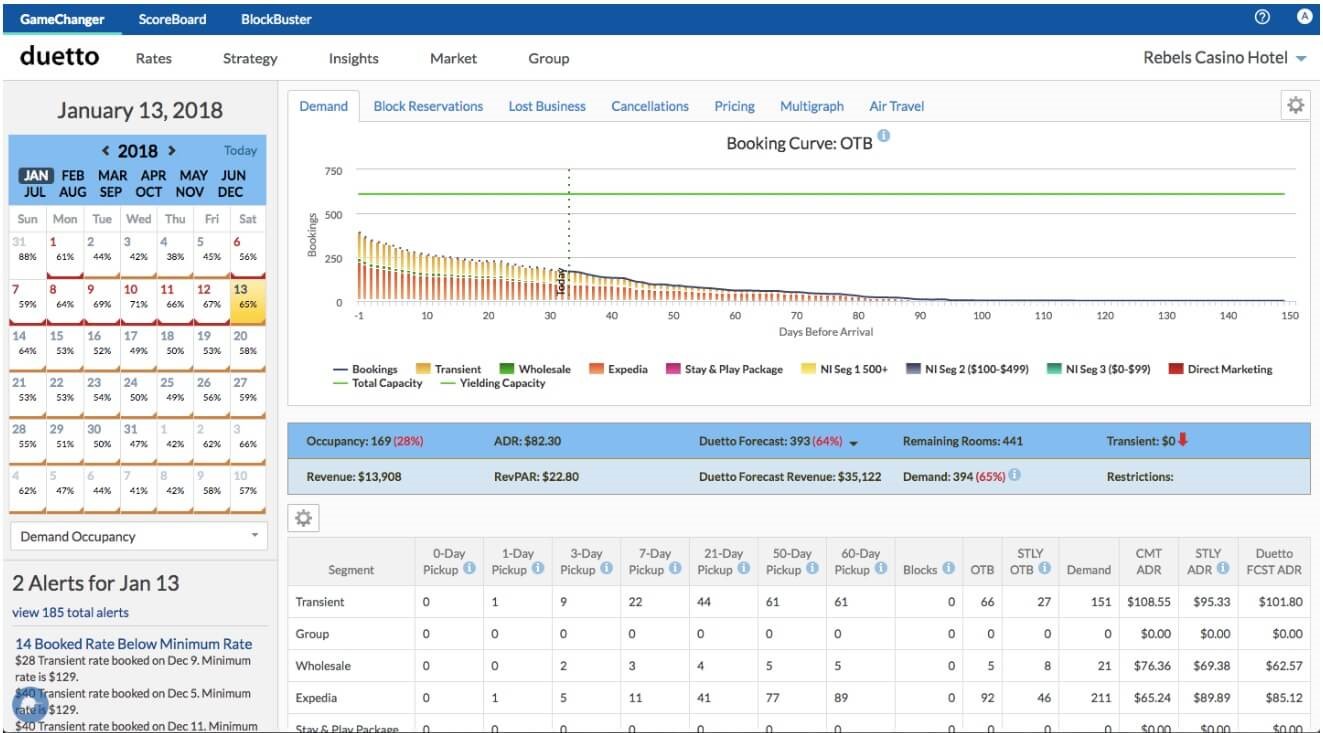 Duetto is a cloud-native RMS that fuses robust analytics, real-time data, and human expertise to help hoteliers maximize profitability and optimize customer experiences.
Designed specifically for the hospitality industry, this platform utilizes advanced algorithms and machine learning to optimize pricing strategies, analyze demand, and forecast revenue.
When Duetto's real-time market insights and personalized pricing recommendations are integrated with a BI solution, it provides hoteliers with deeper customer insights and better pricing decisions.
Duetto's superior RMS capabilities, combined with its seamless integration with your hotel's existing systems, make it the ideal choice for hoteliers looking to unlock the full potential of their data and drive long-term growth.
Key Features
GameChanger: This technology allows hotels to make smarter pricing decisions and optimize their revenue management.
Forecasting and Budgeting: Predictive analytics enables you to create accurate forecasts and budgets, making informed decisions and allocating resources more effectively.
Multi-Property Management: Manage your portfolio, set scalable strategies, and streamline decision-making with enterprise-level features.
Automation Controls: With controlled automation, revenue teams can define and automate segments, room types, stay days, and seasons in a hybrid model, combining automation with your revenue manager's expertise.
Pros
The platform is very user-friendly, even for users without prior experience using an RMS.
Support from Duetto is excellent, and they have localized support for various languages.
Reports are easy to pull and customize.
Cons
Some users have reported that the forecasting capabilities are somewhat limited for different segments.
Reports don't have enough graphics to make them easy to read.
While it integrates with many popular hotel systems, there are still some platforms it misses.
Why Consider It
It's got robust RMS capabilities and seamless integration with your BI solution, so hoteliers get great insight into customer behavior, revenue performance, and market trends all from one easy-to-use interface.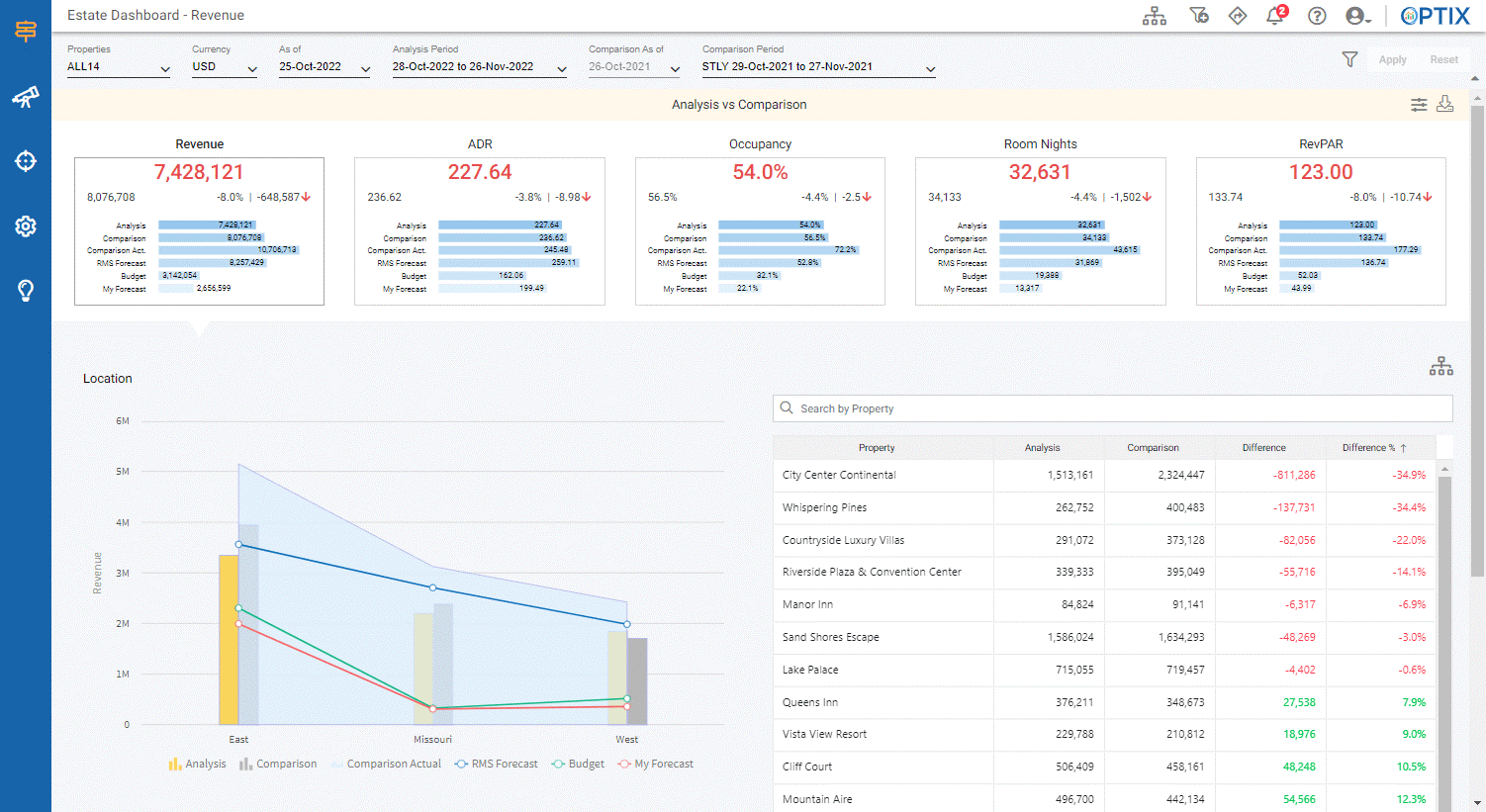 IDeaS is an industry-leading RMS designed to maximize your hotel's revenue by enforcing availability restrictions and overbooking strategies that traditional rules-based approaches can't.
The system's intuitive, predictive analytics and innovative forecasting capabilities enable hoteliers to make data-driven pricing decisions more quickly and accurately than ever before.
By integrating IDeaS with your BI solution, you'll be able to access a unified view of all your financial data, such as revenue trends and booking patterns.
This enables you to make more informed decisions about pricing strategies to serve your bottom line better.
Key Features
SaS Analytics Engine: With an advanced analytics engine powered by artificial intelligence, IDeaS enables users to obtain insights and make data-driven decisions quickly and accurately.
Customizable Dashboards: Whether you're part of a corporate team or a revenue manager, you'll be able to choose what you want to see on your interactive dashboard.
Group Pricing Tool: Hotel sales teams can now accurately quote group deals in alignment with the hotel's rate strategy and profitability factors.
Automated Inventory Management: Automating inventory management functions, including room availability, rate changes, and overbooking protection, allows hoteliers to focus on other aspects of their businesses.
Pros
Hoteliers can optimize their pricing and inventory management strategies using the platform's advanced algorithms and machine learning techniques.
Its modular design allows users to pick and choose the features they need to fit their hotel's unique needs.
To explain how it came to its recommendations, IDeaS uses natural language processing AI.
Cons
It lacks the ability to automatically adjust the floor/ceiling immediately when the season changes, which could result in missed revenue optimization opportunities and require manual adjustments.
There have been some reports that the Forecast and Budget upload files are hard to fill out and take up a lot of time.
The platform requires continuous support and training to maximize the newly released features.
Why Consider It
IDeaS' comprehensive and user-friendly revenue management tools are designed to unlock new profitability dimensions and foster a growth-oriented business culture.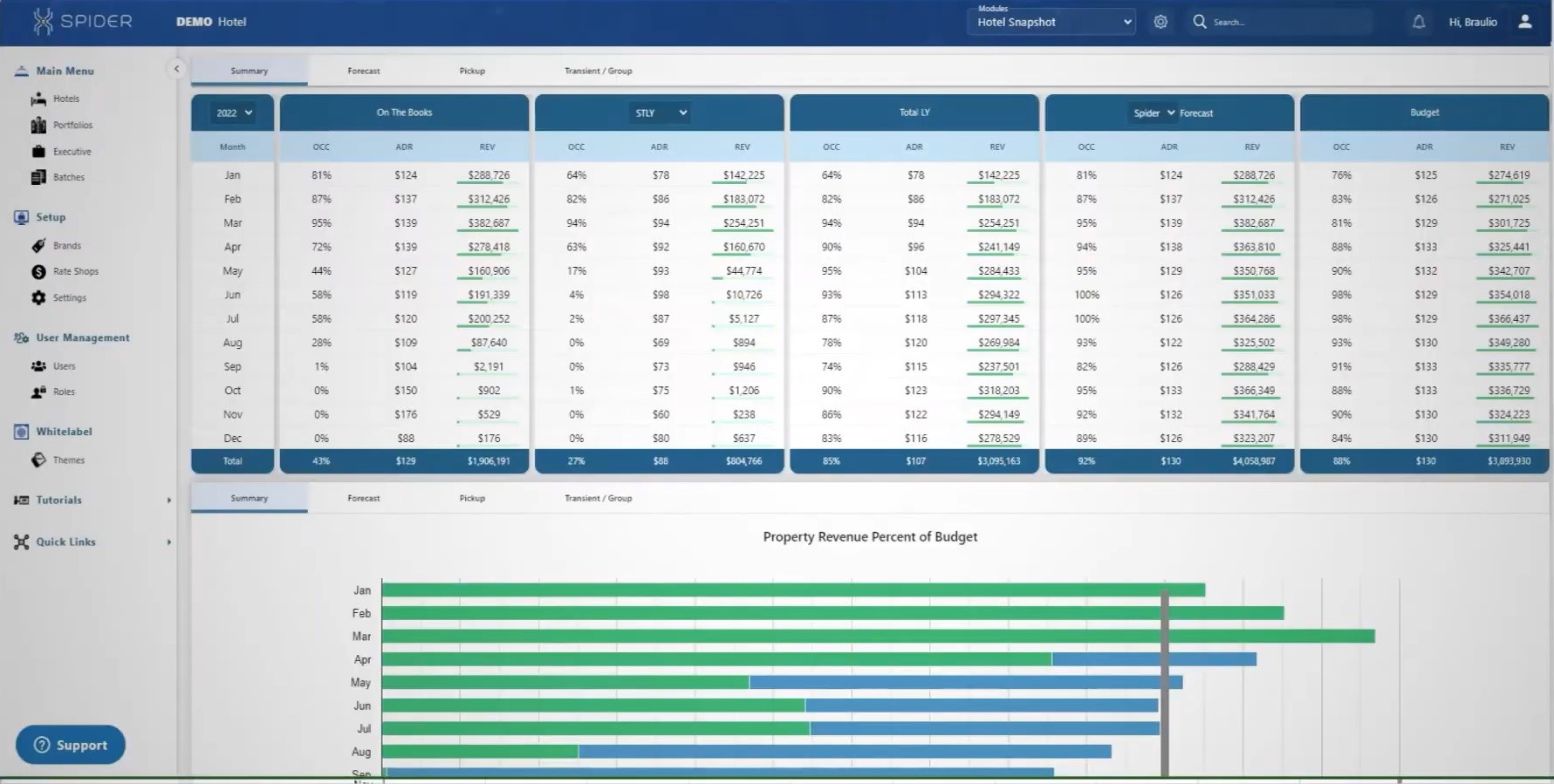 Kriya RevGEN is a comprehensive revenue management platform that provides powerful analytics, forecasting, pricing, and more for hotels of all sizes.
One of the unique aspects of Kriya RevGEN is its ability to support all branded and independent systems with historical and future bookings and automatically consolidate data down to the reservation level.
This allows for more accurate pricing, forecasting, budgeting, and analysis and gives managers the unlimited ability to slice and dice hotel performance data.
Combining Kriya RevGEN with a business intelligence (BI) solution allows for even greater insight into a hotel's financial data, improving pricing strategies and revenue optimization.
Key Features
Spider Analytics: The platform gathers reservations-level data from any branded or independent property system and consolidates it, allowing you to do quick and flexible analysis, forecasting, and budgeting.
Automated Data Consolidation: Data is automatically consolidated down to the reservation level, allowing more accurate forecasting, pricing, and analysis.
Brand-Neutral RM Support: Kriya RevGEN's revenue management for hire service supports multi-branded and independent management companies.
Task Force RM Support: Their team of highly skilled revenue managers offers task force support to large RM departments.
Pros
Kriya RevGEN's detailed information (to the reservation level) is highly valuable for portfolio revenue managers, and the daily snapshot keeps stakeholders on top of what's going on.
Users can get quick, helpful support from the support team to make the most of the platform.
It's an invaluable tool for in-house revenue management teams and hotels looking for high-quality CNR data.
Cons
Some users have reported that the user interface is a bit sluggish when loading data.
There is a slight learning curve when transitioning to this platform.
Creating user-defined presets for quick indexing of information may be time-consuming and could require significant effort on the part of the user.
Why Consider It
It's an innovative hotel revenue management platform that supports all branded and independent systems, offering accurate pricing and forecasting with industry-leading revenue management for hire service.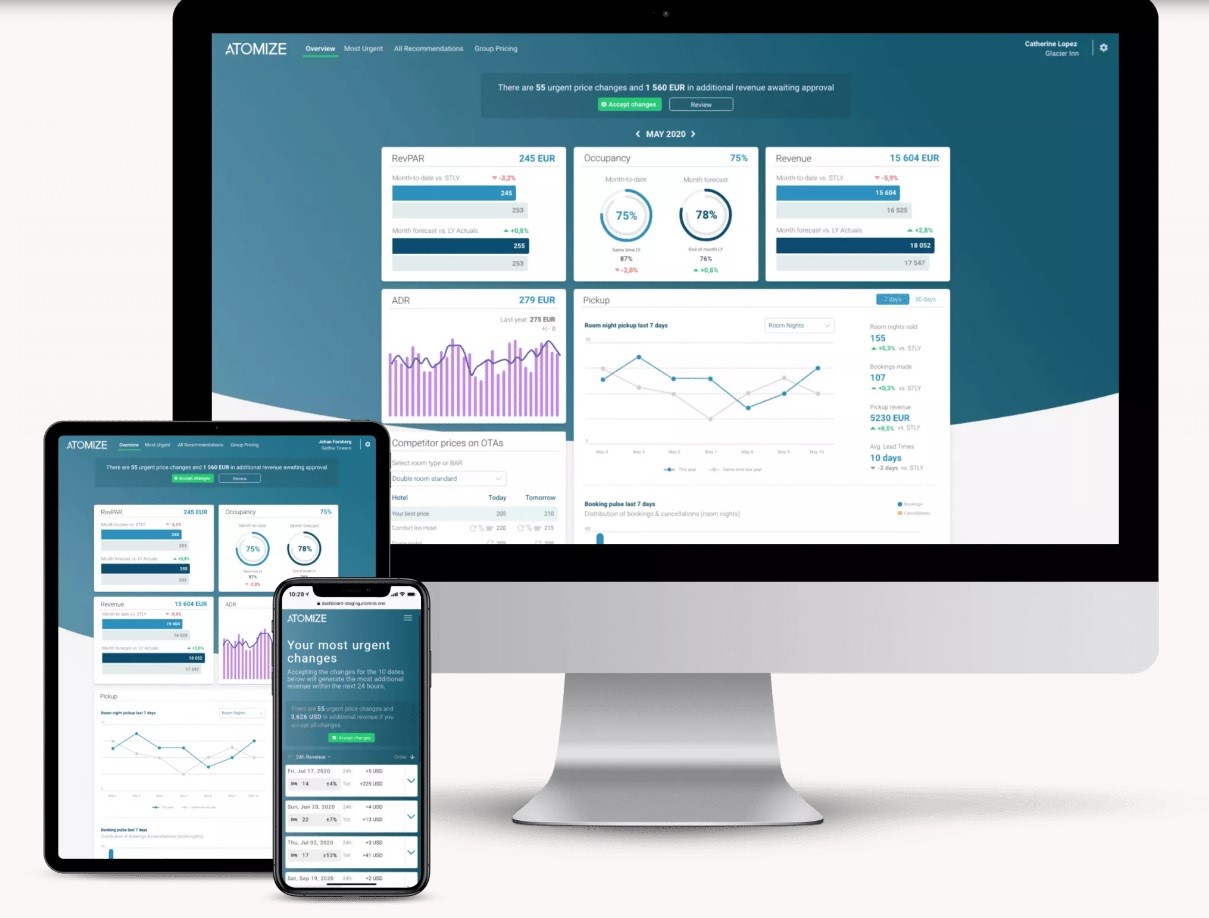 Atomize is a cutting-edge, lightweight RMS that streamlines hotel revenue management processes and easily increases profits.
This platform offers real-time forecasting and pricing recommendations using the latest data science and machine-learning algorithms.
By capturing travel intent earlier in the customer journey and optimizing prices in real-time, they ensure that your hotels stay ahead of the competition.
When combined with a BI solution, managers gain comprehensive insights into their financial data, allowing them to identify trends and make informed decisions about pricing, marketing, and inventory allocation.
Key Features
Multi-Property Dashboard: This view allows hoteliers to manage multiple properties from a single, user-friendly dashboard.
Intuitive Interface: With a clean and modern design, users can quickly access the data and insights they need to make informed decisions
Real-time Price Optimization: The machine-learning algorithms analyze market trends, competitor pricing, and historical data to deliver precise pricing recommendations in real time.
Automated Room Pricing: With Atomize, hoteliers can automate their room pricing based on a variety of factors, including occupancy rates, market demand, and competitor pricing.
Pros
It has mobile capabilities that let you tap into Atomize's powerful algorithms and make real-time pricing adjustments on the go.
Its user-friendly interface and sophisticated algorithms make it easy for anyone to optimize revenue and profitability.
The real-time price optimization engine automates and optimizes your rates based on internal and external data, which saves you time and ensures competitive pricing.
Cons
Some users have noted that it may not always show rates from competitors, as each competitor must be manually displayed on different portals.
Atomize's automatic sales restrictions may limit a hotel's pricing flexibility, frustrating revenue managers who prefer more control.
It lacks certain views and KPIs that would be helpful to managers, such as year-to-date views and more.
Why Consider It
With advanced data science and machine-learning algorithms, real-time insights, and a proven track record of innovation, Atomize is a great choice for hoteliers who want to stay ahead of the competition.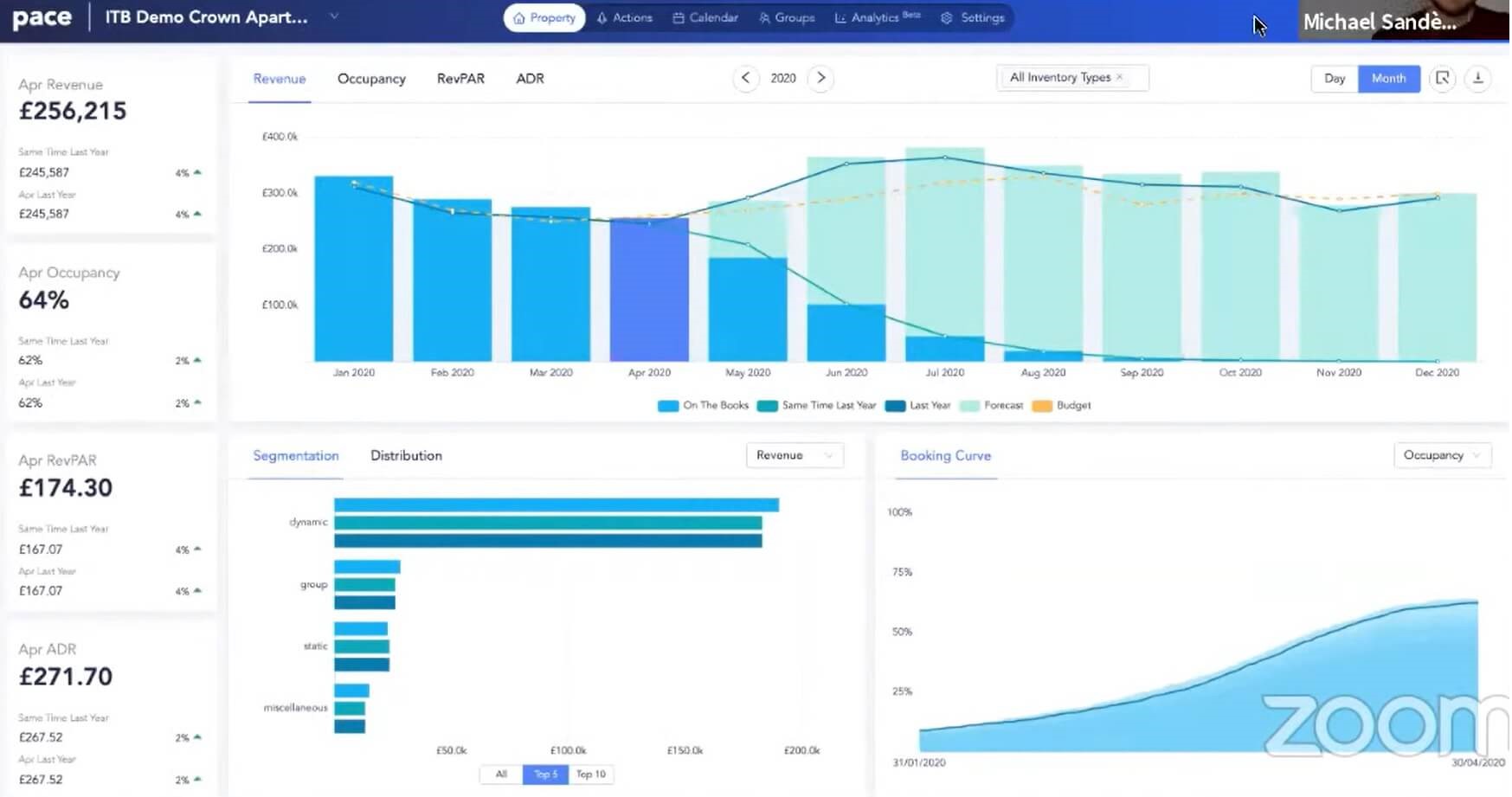 Pace Revenue is an all-in-one platform that provides revenue managers with valuable insights and business intelligence to help them make optimal commercial decisions in real time.
It's built on top of an industry-leading pricing decision engine, allowing hoteliers to optimize their pricing strategies for maximum revenue and occupancy.
The platform is incredibly easy to use—even for managers new to revenue management, you can quickly get up and running. The best part?
The platform includes built-in BI functionality, allowing revenue managers to analyze data and identify patterns and trends in their revenue and occupancy.
| | | | | | |
| --- | --- | --- | --- | --- | --- |
| Pace Revenue | 8/10 | 7/10 | 8/10 | 8/10 | Hotels of all sizes that want to take a data-driven approach to revenue management |
Key Features
Group Booking Management: Automate the process of creating and managing group blocks, assigning room types, and generating contracts with this software.
Automated Price Recommendations: This allows managers to set prices based on historical data, market trends, and more, allowing for data-driven decisions.
Accurate Demand Forecasting: Hoteliers can optimize pricing and inventory management by utilizing advanced algorithms to forecast demand for rooms and other hotel services.
Customizable Dashboards: You can choose from a range of prebuilt widgets or design your own dashboard to fit your needs.
Pros
With its super user-friendly platform, hotels can customize it to fit their specific needs and preferences.
Customer support is available to assist with any queries or issues you may have.
The system's ability to apply rate changes with a single click saves time.
Cons
The system's automatic updates may not always align with the hotel's preferred schedule for updates, which could lead to disruptions or conflicts.
This system allows hotels to set their own seasonal price ranges, but some hotels might prefer to have these settings done automatically.
Despite the RMS's forecasting capabilities, following these changes may not always be intuitive or easy to understand.
Why Consider It
Data analytics, real-time pricing optimization, customizable and user-friendly dashboards, and seamless integration with other hotel systems make it a great choice for hotels looking to maximize revenue.
The Best BI Solution On the Market
Now that you're well on your way to finding the perfect RMS for your hotel portfolio, it's crucial to pair it with a powerful BI solution to effectively manage your properties and gain even deeper insights.
While some RMS options come with basic BI capabilities, the actual extent and quality can vary greatly. Some may have limited reporting capabilities or may not offer access to important financial data.
In most cases, pairing your RMS with a powerful BI solution like Hotel Investor Apps (HIA) will enable you to gain deeper insights and generate more comprehensive reports, allowing you to make better decisions.
This solution integrates your labor, financial, and operational data in real-time, so you can get a comprehensive view of your entire portfolio.
With HIA's BI solution, you can:
Create customizable reports and dashboards that give you the data you need to optimize your revenue and maximize your profits
Access real-time data that keeps you a step ahead of your competitors
Benchmark your expenses and custom metrics against last year, budget, other hotels in your portfolio, and custom standards
Empowers general managers to make data-driven decisions with detailed reporting and analytics
Set custom thresholds on metrics and receive notifications when action is needed
So, whether you're looking to gain a competitive edge or optimize your hotel's performance, pairing your RMS with HIA's BI solution is the way to go.
Don't wait any longer; schedule a demo today and experience the benefits of HIA for yourself.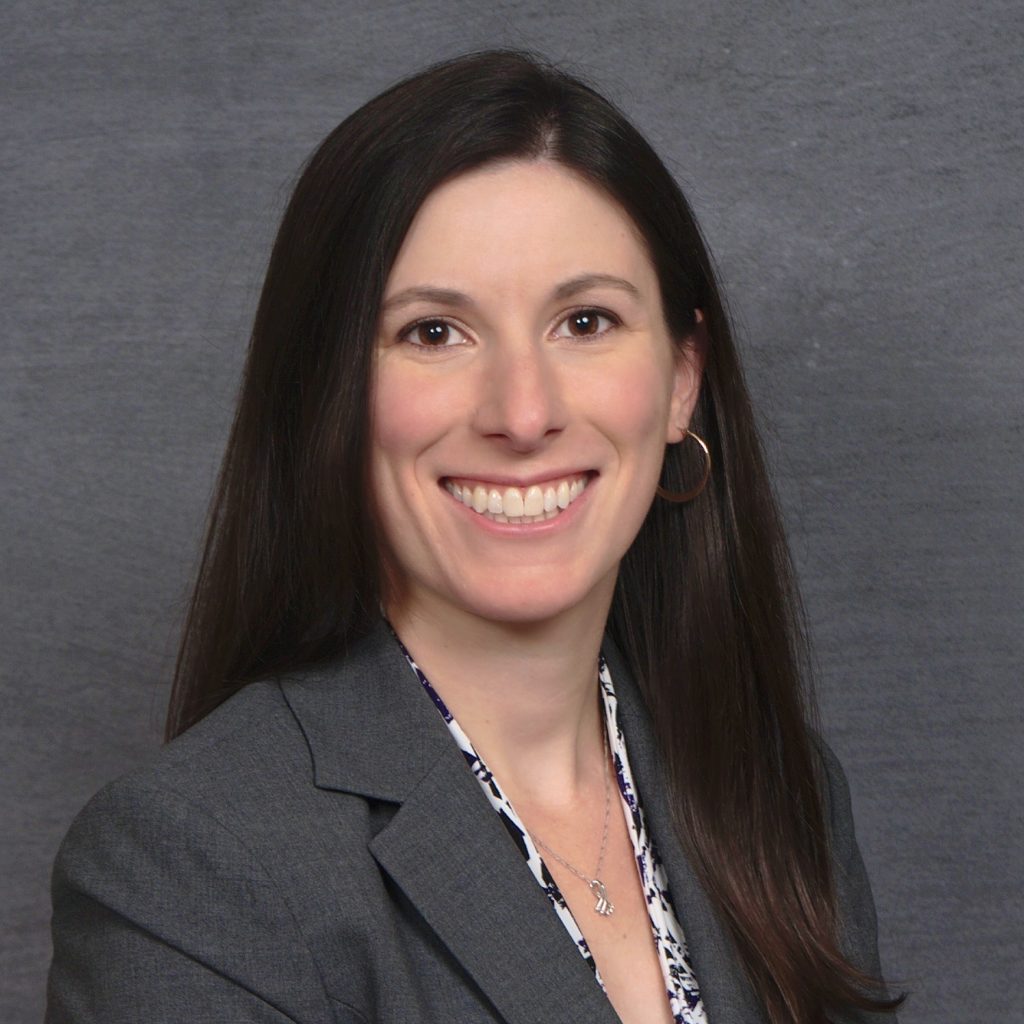 Jaime Goss has over a decade of marketing experience in the hospitality industry. At Hotel Investor Apps, Jaime heads up marketing initiatives including brand strategy, website design, content, email marketing, advertising and press relations.