Wondering how top hotel companies are crushing the competition? We'll give you a hint—they traded in their spreadsheets for powerful data analysis tools that help them easily extract powerful insights.
By analyzing data on booking behavior, room rates, and more, hoteliers can optimize their pricing strategies, identify operational inefficiencies, and reduce costs, resulting in better overall performance and profitability.
But with so many data analytics tools out there, it can be overwhelming to figure out which one is the best fit for your hotel.
That's why we created this comprehensive guide. We'll walk you through the world of hotel data analytics and provide expert insights into selecting the ideal tool for your hotel.
Step 1: Identify Your Hotel's Data Analysis Needs
Before we dive into choosing your analytics tools, let's first take a step back and consider your hotel's existing data analysis capabilities and goals.
For example, are you aiming to optimize revenue, enhance guest experiences, or gain a deeper understanding of your market?
Knowing your specific needs is crucial for choosing the ideal tools for your hotel, as each tool analyzes data in different ways, affecting the insights you obtain.
How do data analytics tools conduct analysis?
●     Descriptive: This is the most common type of analysis. It focuses on summarizing historical data to provide insights into past performance, making it an excellent way to identify trends and patterns.

●     Diagnostic: This type of analysis aims to dig deeper into the data by examining factors like seasonality, marketing campaigns, or special events that affect revenue or occupancy to identify the root causes of past performance.

●     Predictive: As the name implies, predictive analytics is all about using historical data and machine learning algorithms to forecast future trends and events. It's particularly helpful for hotels looking to anticipate future demand, optimize pricing strategies, allocate inventory effectively, and refine marketing efforts.

●     Prescriptive: Going beyond just predicting future outcomes, prescriptive analytics actually suggests specific actions to help you achieve the results you're looking for. These actionable recommendations are fantastic for making data-driven decisions that optimize revenue, guest experience, and resource allocation.
Step 2: Choose the Type of Data Analytics Tool(s) You Need to Meet Your Goal
Once you've decided what you want to accomplish, let's dig deeper into some of the most common tools hotels use to analyze large amounts of data and generate actionable insights.
Revenue Management Systems (RMS)
The main goal of these tools is to help optimize pricing strategies by analyzing market demand, competitor pricing, and other factors.
RMS tools  use data from multiple sources, such as booking engines, property management systems (PMS), and other data sources, to forecast demand and make pricing decisions based on market trends and competitor analysis.
Business Intelligence (BI)
These powerful tools are used to extract insights from multiple sources to identify trends, detect anomalies, and make data-driven decisions.
BI tools  help hotels in data aggregation, visualization, and reporting, allowing them to improve operational efficiency, optimize pricing strategies, and gain a competitive edge.
Financial Management
These systems allow hotels to gain a deeper understanding of their financial performance and identify areas for improvement by simplifying budgeting, forecasting, and reporting.
They obtain their data from various sources within a hotel's financial system, such as the PMS, point-of-sale (POS) systems, accounting software, and external sources like credit card processors and bank accounts.
Customer Relationship Management (CRM)
CRMs collect, manage, and analyze customer data and behavior to enhance guest experience and satisfaction.
They help hotels to personalize their services, understand guest preferences, and build long-term customer loyalty.
Operational Analytics Tools
The main purpose of these tools is to identify operational inefficiencies, streamline processes, and improve the overall guest experience.
They get their insights from various sources, such as PMS, POS systems, and labor management systems.
Step 3: Check the Core Features Your Chosen Data Analytics Tool Offers
While you'll want to explore the specific features that make your tool stand out, it's critical that you look for these basic elements to ensure it works well for your needs.
Integration Capabilities
One of the most critical aspects of any data analytics tool is its ability to integrate with multiple data sources, such as your PMS, CRM, financial information, online booking channels, etc.
This way, data can flow seamlessly between different sources, giving you a holistic view of your portfolio's performance. Check to see if the tool can:
Support your existing systems
Handle various data formats, such as CSV, JSON, and XML
Be easily set up
Data Presentation
The most effective data analytics tools transform complex data into easily digestible visuals like charts, graphs, and color coding.
Managers can identify trends, spot issues, and make informed decisions with a glance. To assess a tool's visualization capabilities, ask:
Does it give you a lot of visualization options?
Can you customize chart thresholds to suit your hotel's needs?
Is it possible to drill down on the information and analyze trends in depth?
Customizable Reporting And Dashboards
One size definitely doesn't fit all. That's why it's essential that you find a data analytics tool that lets you create customizable reports and dashboards tailored to your specific needs.
Look for tools that allow you to:
Create role-based dashboards and reports
Schedule automated reports or send notifications when a metric drops below a certain threshold
Have the flexibility to build your reports to fit your specific needs
Scalability and Flexibility
Whether you're adding new properties or integrating new data sources, the ideal tool should be flexible enough to grow with you without missing a beat.
So, ask yourself:
Can the tool handle higher data volumes and complex analyses if you add new properties?
How easy is it to add new users and adjust permissions?
How easy is it to add or remove data sources as needed?
Ease Of Use
Selecting a user-friendly data analytics tool with intuitive navigation can make a difference for your staff. They'll save time and focus on data analysis instead of struggling with the tool itself.
Here are some questions to ask about the tool:
How easy is it to create customized reports? Are there pre-built templates, or do you need to start from scratch?
Does it have a mobile app or web-based access?
What's the learning curve? How fast can your team get up to speed?
How responsive is the customer support team? What communication channels do they offer?
Step 4: Compare and Test Data Analytics Tools
After researching and shortlisting your options for data analytics tools, it's time to get hands-on and compare them. Here are some steps you can take to ensure that you choose the best tool for your hotel company:
Seek out recommendations from experts and other hoteliers
Evaluate reviews and testimonies
Request demos or trials
Make sure the tool is compatible with your existing systems
Ask about integration options
Assess the responsiveness and quality of implementation support and on-going customer support offered
Evaluate how quickly your team can learn and adapt to the new tool
In addition to these steps, there are some special considerations to keep in mind when comparing data analytics tools.
Hotel-specific vs. General Data Analytics Solutions
When choosing your tooling, you might come across tools that aren't tailored toward the hospitality industry.
While general analytics solutions, like Microsoft BI or Tableau, are highly customizable, they weren't built for the hotels. That means you'll have to spend lots of extra time and effort setting up and adjusting to your hotel's requirements.
Hotel-specific tools, like Hotel Investor Apps or IDeaS, are designed (you guessed it) for the hospitality industry. They're pre-configured to display the most relevant data and often incorporate predictive and/or prescriptive analytics.
Since they are built with hotels in mind, they also come equipped with integrations for your hotel's systems, making them easier to implement.
Cloud-Based Vs. Cloud-Hosted
In today's market, most tools are either hosted on or built in the cloud. And which one can make a big difference between accessibility, updates, and maintenance.
For more information, check out this article.
Top Data Analytics Tools for Hotels
While there are a wide range of data analytics tools available on the market, we've put together a short list to get you started.
 1. HIA (Financial and BI Tool in One)
HIA is an all-in-one financial and BI tool for hotel owners and management companies.
Combining financial reporting and data analytics gives you a comprehensive view of your hotel's performance, so you can make informed decisions, track key performance metrics, and optimize your hotel's operations.
Some of its key features include:
Seamless integration with PMS, CRM, and other hotel systems
Customizable and role-based dashboards and reports
Real-time data access
Cloud-based accessibility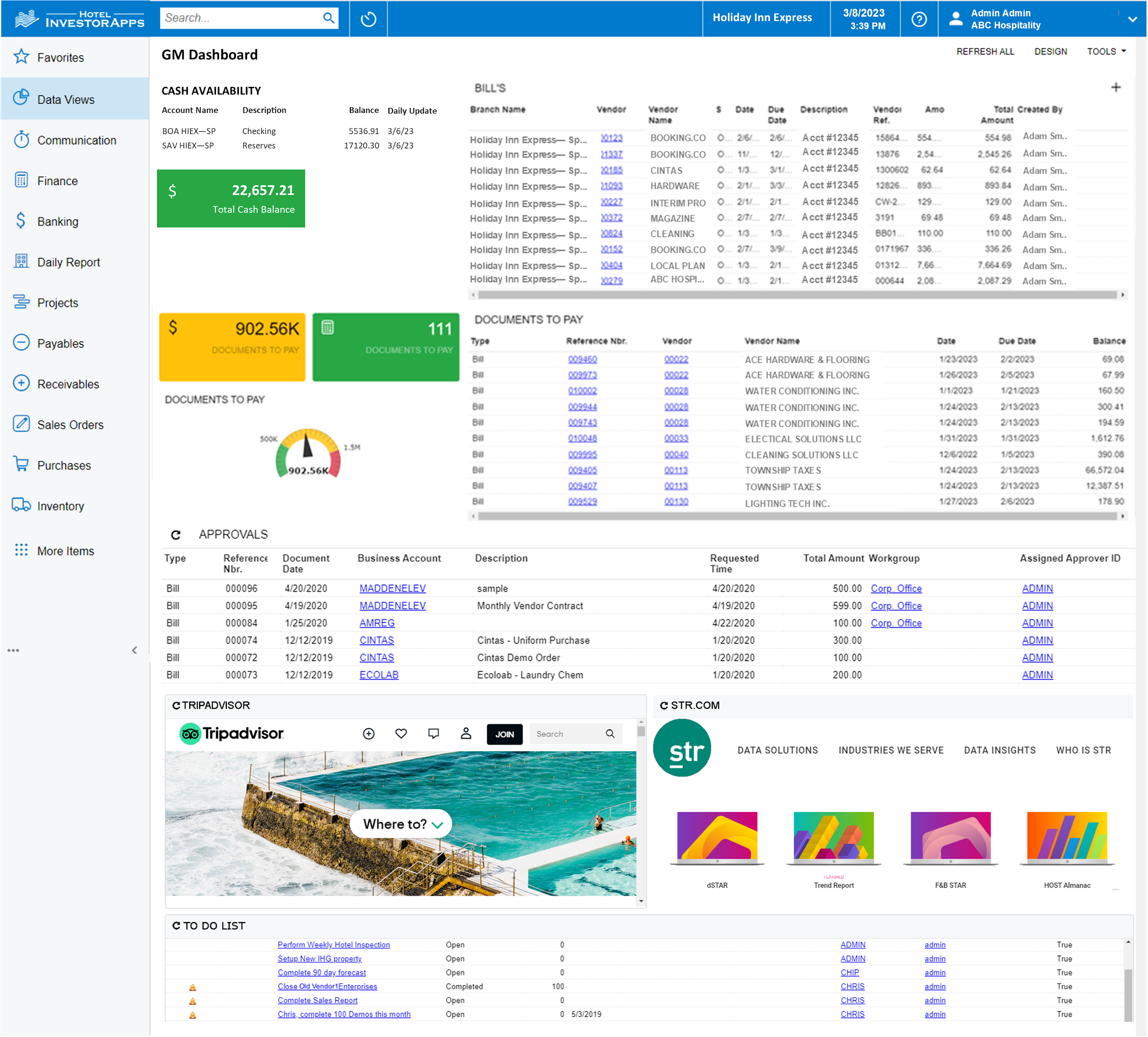 2. Duetto (RMS)
Duetto goes beyond traditional RMS by incorporating data analytics, empowering you to make smarter pricing and distribution decisions. Here are some of its standout features:
Advanced data visualization options
Personalized pricing recommendations
Cloud-based and scalable for growing businesses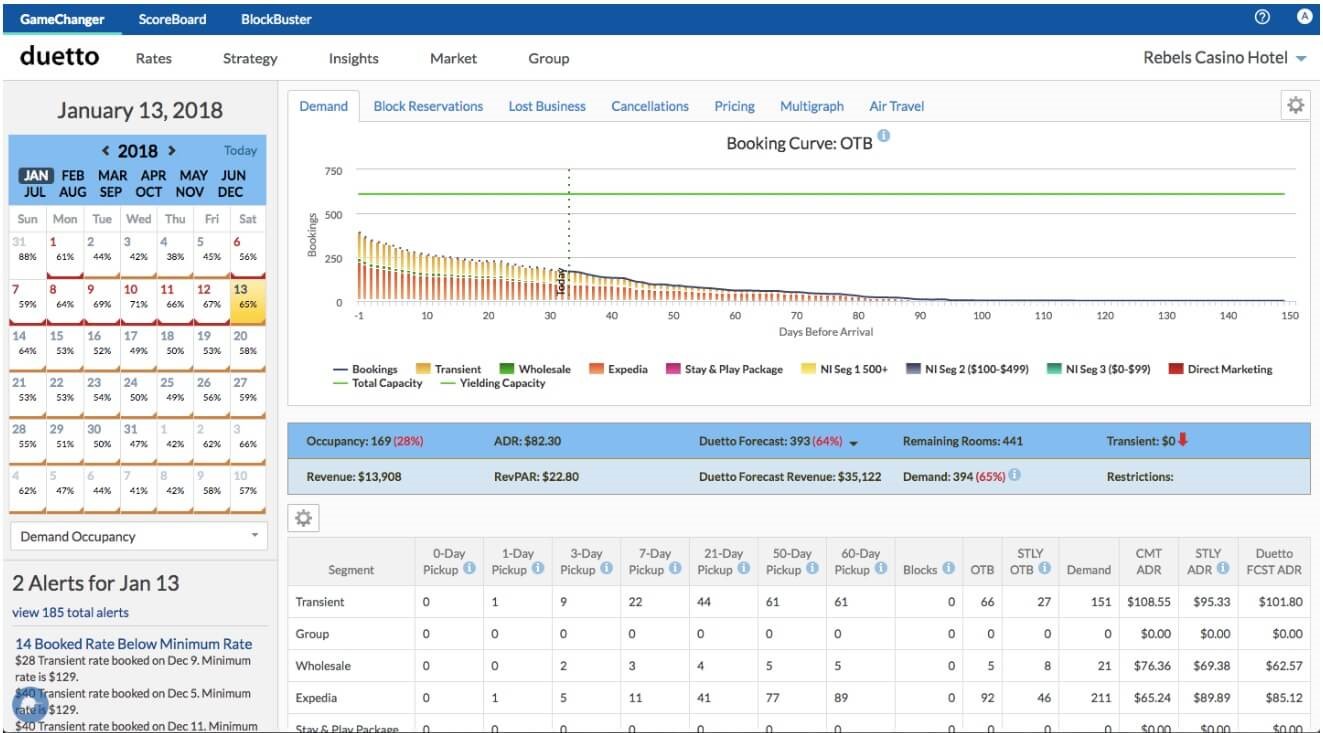 3. Medallia (Guest Experience)
Medallia is a leading customer experience management platform designed to help hoteliers understand and enhance their guests' experiences. With its robust set of features, Medallia allows you to:
Collect guest feedback from various touchpoints and channels
Analyze and visualize data for actionable insights
Identify areas for improvement and track progress
Personalize guest interactions and marketing efforts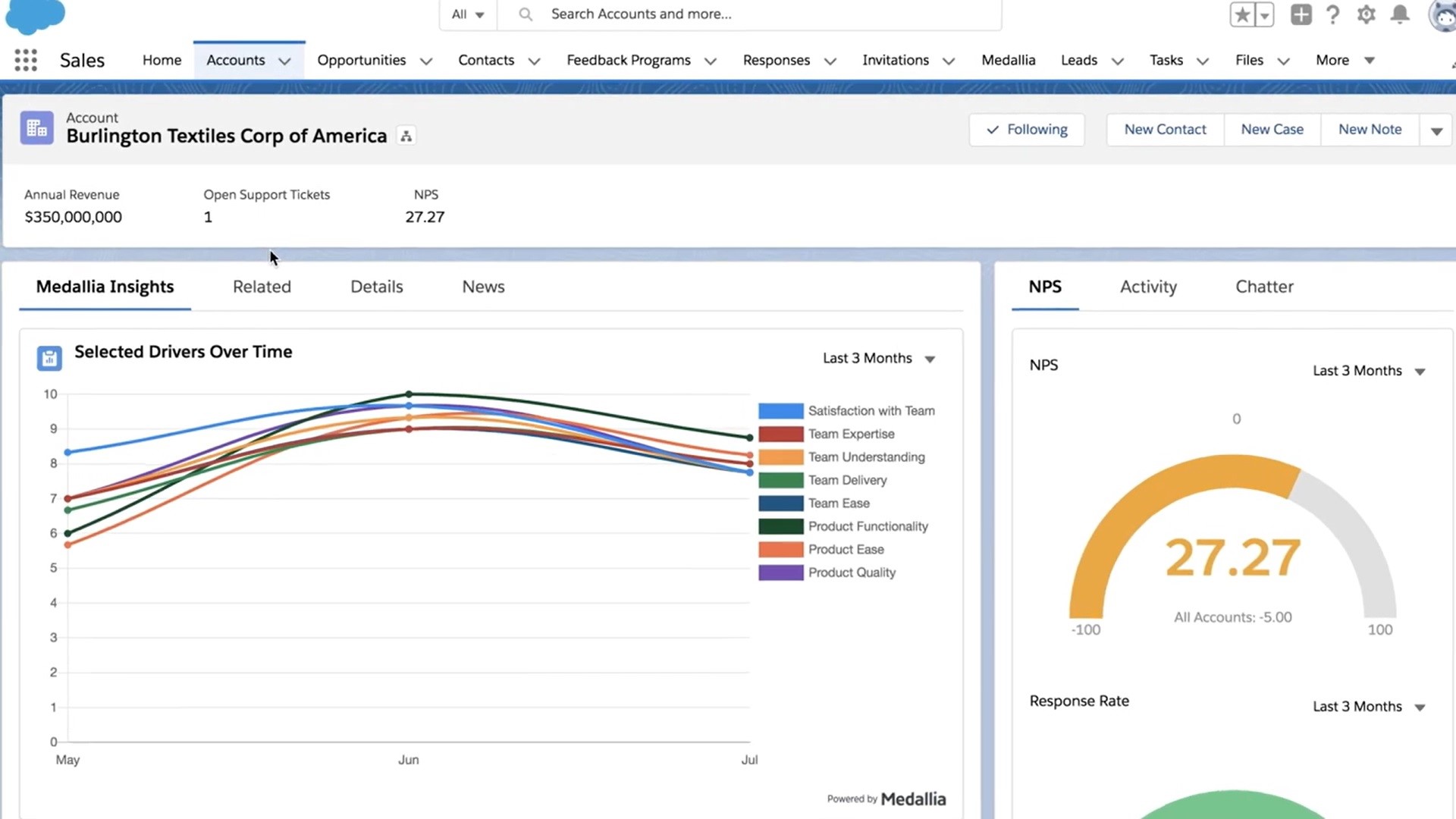 4. STR (Performance and Benchmarking)
This data analytics tool specializes in measuring your hotel's performance against industry benchmarks, so you can see how you stack up against the competition. Key features include:
Customizable performance reports
In-depth market analysis and trend forecasting
Access to global industry data for accurate benchmarking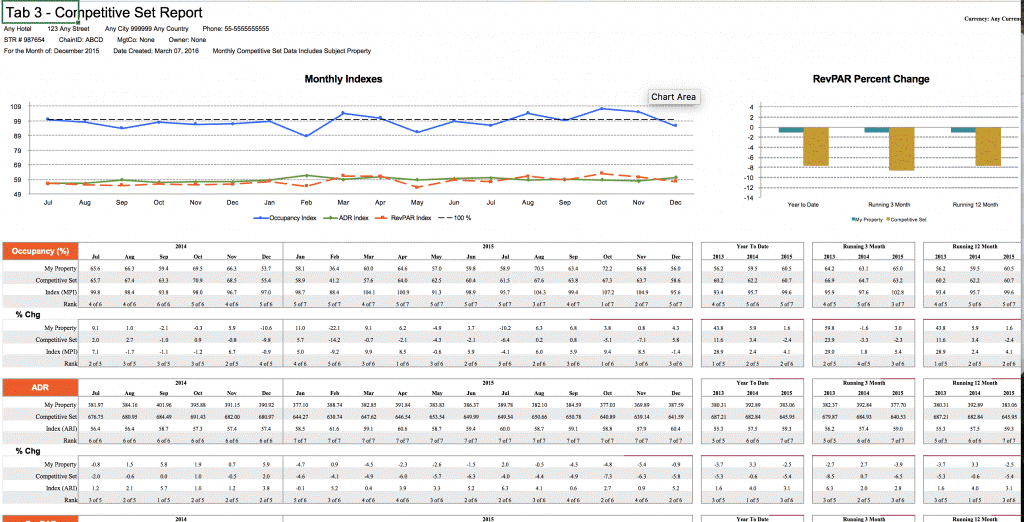 Closing Thoughts
With all this information at your fingertips, you should have a clearer idea of which tool is the perfect fit for your hotel.
So, don't hesitate to dive deep into research, compare different tools, and test them to find the one that meets your hotel's unique needs.
But the journey doesn't end here. As the hospitality industry continues to evolve, you'll need to stay informed and adapt to new trends and technologies that can help you maintain a competitive edge.
If you ever find yourself with lingering questions or need a little extra guidance on your path toward data-driven hotel management, the friendly team at HIA is more than happy to help.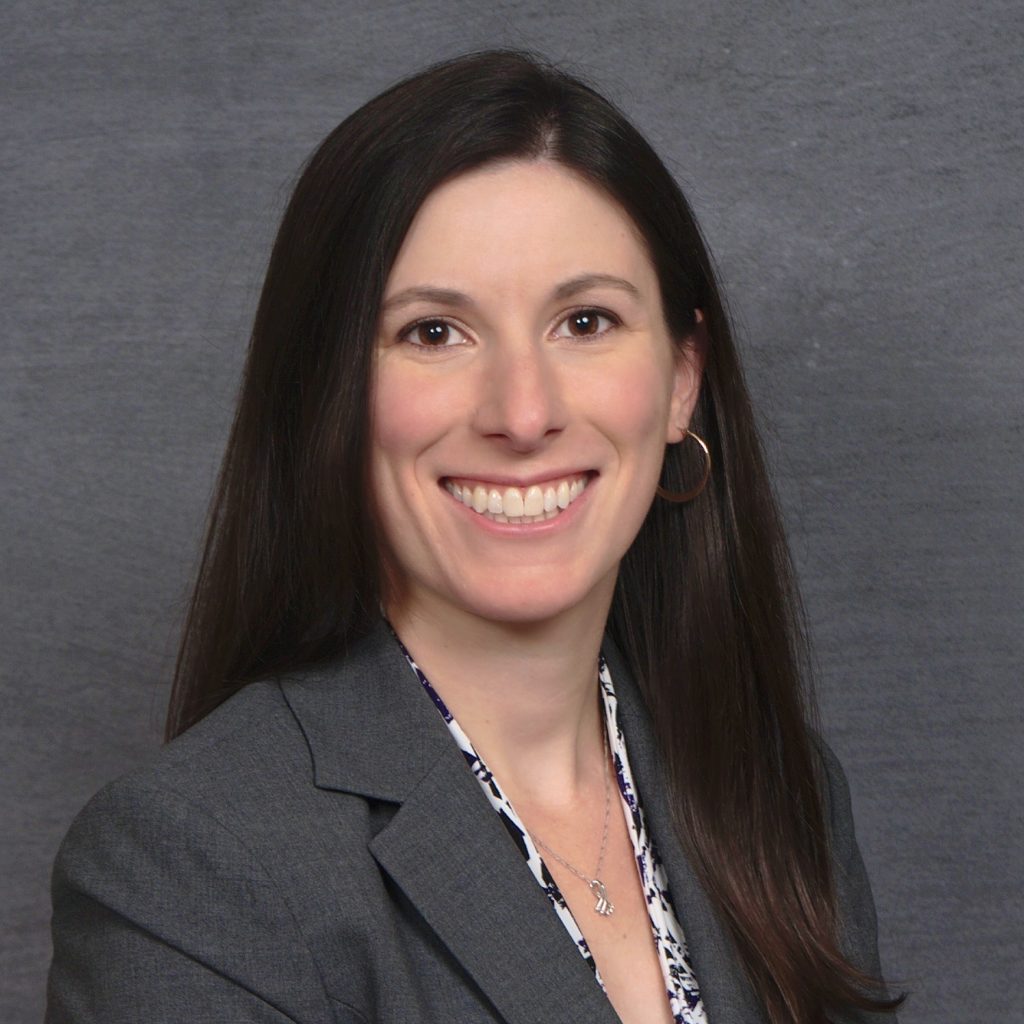 Jaime Goss has over a decade of marketing experience in the hospitality industry. At Hotel Investor Apps, Jaime heads up marketing initiatives including brand strategy, website design, content, email marketing, advertising and press relations.